It's Monday and I'm happy to be participating in a weekly event with a community of bloggers who post reviews of books that they have read the previous week.  Check out more IMWAYR posts here: Teach Mentor Texts and Unleashing Readers
It's amazing to me how many wonderful new books keep appearing!   I can't seem to keep up with all the amazing picture books being released and my collection keeps growing!  Here are some of the new treasures I have fallen for in the last few weeks:
What Do You Do With an Idea? – Kobi Yamada
Every once in a while I discover a book that floods my heart with emotion and my mind with deep thoughts.  Here is such a book.  This is a book that celebrates ideas – no matter how small and how insignificant they may seem.  A little boy has an idea.  At first he doubts it, worries about it, almost rejects it – but the idea follows him around and slowly begins to grow and take shape.   I love how the idea is an actual "thing" that you can see.   The illustrations are wonderful; I loved how when the story begins, only the idea is in color – everything else in black and white.  As the idea grows, so does the color on the page.  So much to love about this book.  A great book to discuss the power of never giving up on an idea.  I would definitely use it for helping students understand how a book can change our thinking.  (TRANSFORM)
Norman, Speak! – Caroline Adderson
This is a delightful story of a family who adopts a dog from an animal shelter.  They love this dog so much but discover that he is "not very smart".  He does not respond very well to his new home and has a hard time learning to do what other dogs do.  While at a park one day, they discover why – this dog speaks Chinese!  They watch in amazement as he responds to the Chinese commands from another dog owner at the park.   Now it is the family who doesn't feel very smart and decide to take Chinese lessons so they can communicate with their beloved dog.  A wonderful story to  promote questioning about animal adoption and animal communication.   My only issue was the length of the story – almost too long for a single sitting – but certainly worth reading over a few days.
Whimsy's Heavy Things – Julie Kraulis
This beautiful and thought-provoking books deals with depression as a simple metaphor:  "heavy things" that can weigh you down.   Whimsy carries around her "heavy things" until she discovers that by breaking them into smaller pieces, they become easier to manage.  I love the soft illustrations and the gentle tone of the story.  I can see this being an excellent book for discussion and using to infer (What do you think "heavy things" are?)  and connect (What are some heavy things that weigh you down?)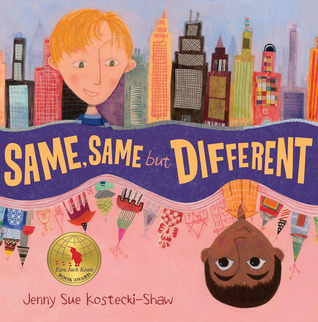 Same, Same but Different – Jenny Sue Kostecki-Shaw
Comparison writing is one of six nonfiction text structures I focused on in my new book Nonfiction Writing Power.  Since using anchor books (mentor texts) is an important part of writing instruction, I am always on the look-out for new books that model the different writing structures.  While this book would be classed as fiction, not only does it work well as a model for comparative writing, it is an excellent book for teaching diversity and multiculturalism.    The book features two boys:  Elliott who lives in America and Kailash who lives in India.  They begin their friendship as pen pals and through their letters, learn about the many similarities and differences between their two lives.  A great book for making connections to culture, family and lifestyle.  Colorful, cheerful illustrations.
Whale Shines – An Artistic Tale – Fiona Robinson
Beautifully illustrated story of Whale trying to find something he can contribute to the upcoming undersea art show.  All his sea creature friends have artistic talents, but whale feels like he has nothing to offer.  I loved the illustrations and the great message of perseverance and creativity. Also a great link to science – learning about different sea creatures as well as whale's discovery of bioluminescent phytoplankton that he uses to create his art.  I also love how each sea creature uses their own natural characteristic to develop their artistic talent.    
The Numberlys – William Joyce
Once upon a time there were no numbers – only the alphabet. And so begins the latest visually stunning book by master creator William Joyce.  The text is simple but the illustrations add a layer of sophistication to this story of the world before numbers were created. The book starts out with only numbers in the world and the world is gray, lifeless and dull. Then The Numberlys decide that change is necessary and they create Letters !   And then the world comes to life and the pages have color!  The value of both numbers and letters is reminiscent of 1, 2, 3 Versus A, B, C by Michael Boldt, but Joyce manages to add a sophisticated flair to the concept.  This would be a great book to illustrate the value of numbers and letters in learning.
 The Winning Goal – Sally Rippin        The Birthday Mix-Up – Sally Rippin
It's often hard to find books for emergent readers that are both age and language appropriate.  Sally Rippin's series are excellent for children who are transitioning into very easy chapter books.  There is a series of books featuring Jack and another featuring Billy Brown (who is a girl). But the fun part is that Jack is a character in the Billy books and Billy is a character in the Jack books.  Very simple vocabulary and stories children will find many connections to.
Thanks for stopping by!  I'd love to know which book has caught your eye!