I'm happy to be joining in the weekly IMWAYR posts, hosted by Jen from Teach Mentor Texts and Kellee from Unleashing Readers
Well… we are back in full swing at school but my Pro. D. workshops this week were still cancelled (or post-poned) as teachers were just getting settled into their new classes.  This meant I had a bonus day off – most of which I spent at one of my favorite places – United Library Services!  There, I get to fill a SHOPPING CART with BRAND NEW picture books to read through!  Heaven!  But there are SO many great new books – I'm having a hard time keeping up!  Here are a few of my favorites from the top of a very tall pile!
As an Oak Tree Grows – G. Brian Karas
This book is filled with so many teaching ideas I can hardly stand it!  The story follows the life of an Oak Tree from 1775 to present day.  Each page shows what has changed in the past 25 years – both in the tree and in the surrounding landscape.   I loved the timeline at the bottom of the page, showing each new era.  The illustrations are remarkable – and the book is large which allows the reader to take in all the details on each page.  The Oak tree grows while history transforms around it – from methods of agriculture,  transportation to uses of energy.  The poster included at the back of the book shows the rings on the oak tree representing the growth of the oak tree labeled and dated with many events and inventions that occurred while the tree grew.  This book is creative, unique and interesting!  A perfect link to a unit on growth and change in nature and in our world.
The Right Word – Roget and His Thesaurus  by Jen Bryant
Sigh.  Sigh again.  I love this book.  So so much.   This amazing picture book biography is about the life of brilliant scientist and word collector Peter Mark Roget. The book explores his extraordinary journey that turned his love of words into the publication of the most important reference books of all time. The illustrations are stunning! If you love words as much as I do – this is a must have for your biography collection!  Watch the book trailer here.
Vanilla Ice Cream – Bob Graham
I am a fan of Bob Graham books – I admire his ability to leave room for lots of deep thinking within his subtle text and detailed illustrations.  This book follows an endearing, curious sparrow on an unexpected journey as he travels across the world in a bag of rice from India to an urban setting (Australia?) The sparrow finds a family and invites a child to taste vanilla ice cream for the first time.  The soft pallet illustrations are classic Graham and I like how he uses a variety of closed panels with open drawings.  Don't read this book too quickly – there is a lot to take in!
Uni the Unicorn – Amy Krouse Rosenthal
When I see Amy Krouse Rosenthal has a new book – I KNOW it's going to be brilliant.  But I admit, when Maggie (from Kidsbooks) first showed me the cover  the cover of Uni the Unicorn, my heart sank a little bit.  Oh, I thought, these illustrations are not my thing.  They appeared too "Disney" like – rainbows, butterflies and unicorns.  What was she thinking?  But then I read the story and realized just how brilliant a story it was and how perfectly matched the illustrations were!  Amy Krouse Rosenthal's latest book is a delightful twist to a familiar story. Uni is a unicorn who believes in her heart that little girls are real, despite the fact that her friends and parents say otherwise. Love the page where Uni is drawing pictures of "imaginary" little girls! Little girls will LOVE this story and make LOTS of connections! The illustrations are reminiscent of Pixar/Disney and will most certainly appeal to the unicorn loving children!   I was also thinking that if you added a cute little stuffed unicorn you have the perfect birthday party present!
If Kids Ruled the World – Linda Bailey
"If Kids ruled the world, birthday cake would be good for you.  Your doctor would say "Don't forget to eat your birthday cake so you'll grow up strong and healthy!"  And so the story goes – page after page –  a "wish list" of a kid's paradise!  This book is fun, playful, imaginative and I can just hear the "YES's" coming from the class!   A perfect anchor book for inspiring writing and art!  Love!
Penguin and Pumpkin – Salina Yoon
I fell in love with Penguin when I first met him in Penguin and Pinecone.  There have been a few Penguin books since, but none have quite come close to that emotional connection I had with that first book.  This story is sweet with familiar bold block colored illustrations.  Penguin and friends take a journey to explore fall outside the North Pole. He brings a few sights and sounds for his baby brother to experience.  I loved the last page when it's "snowing leaves"  but the story fell a little flat for me.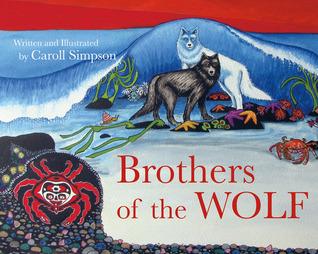 Brothers of the Wolf – Caroll Simpson
This is a beautifully illustrated West Coast First Nations legend about two wolf cub brothers found and raised  as human children in a village on the Pacific.  One cub feels at home in the forest and the other – the sea.  They are separated when supernatural forces change them into Sea Wolf and Timber Wolf.  Although separated, they howl together into the night sky, waking up the moon and bringing light to the darkness of the world.  The story is visually stunning and is a perfect book for questioning. It would also be a great inspiration for creating first nations paintings.
I Wanna Go Home – Karen Kaufmann Orloff
I have shared Karen Orloff's first hilarious book, I Wanna Iguana, for many years with students and teachers as an anchor book for persuasive writing. In it, young Alex writes letters to his mother, trying to convince her to let him have a pet iguana.  His mother writes back, with all the reasons why an iguana would not make a good pet.   In the second book,  I Wanna New Room, Alex is trying to persuade his mom to let him have his own room.  In this third book, and possibly the funniest, Alex is sent to his grandparent's retirement community while his parents go on vacation.  His desperate emails to his parents go from complaining about being dragged to his grandpa's bridge games to delight in eating ice cream before dinner!  I love the connection to grandparents in this book and the fact that Alex is now sending emails!   Hilarious read-aloud!
Orchestra Pit – Johanna Wright
What happens when an endearing snake accidently wanders into an orchestra pit instead of a snake pit?   A whole lot of playful chaos!  The snake proceeds to investigate various instruments and causes quite a commotion among the musicians.  This book is hysterical and would be a perfect way to introduce the different instruments in an orchestra to young children.  Lively, colorful illustrations and endearing expressions on the snake!  Love this!
Lucky – David Mackintosh
I LOVED Marshall Armstrong is New to Our School when it first came out so was excited to see this new book by British author/illustrator David Mackintosh.  This book is hilarious and one that children who have ever "jumped to conclusions" will make connections to!  When Leo's mom tells him that there will "be a surprise" at dinnertime – Leo and his brother, desperate to find out, begin coming up with all sorts of possibilities – a bike? a new car? a new TV? a swimming pool?  By the end of the day they are convinced that the surprise is an all-expense paid two week trip to Hawaii!  And of course when they get home from school and discover the real surprise, they are left feeling let down.  All children have experienced the feeling of getting their hopes up and then being let down  – but it's how you handle your disappointment that creates the teachable moment in this book.   David Mackingtosh handles it with humour and the subtle message of how being grateful for what you already have is enough to make you feel "lucky".  Brilliant!
The Boy on the Porch – Sharon Creech
I always tell my students that the greatest writers don't tell us everything, but  "leave spaces for our thinking".  Sharon Creech's book is a perfect example of this – she doesn't tell us evetyhing but provides us with spaces for asking questions and for thinking.  This book is beaurtifully written – simple, tender and powerful.  It is the story of a couple who discover a boy on their porch with only his name pinned to his shirt – "Jacob".  (What are you wondering?… Who is he?  Where did he come from?  Why did his parents leave him?  Will they come back for him?   (So many questions!)  The boy does not speak but communicates through his extraordinary gift in music and art. Eventually, he is able to communicate with animals.  I read this book in one sitting and then I cried – not because it was sad but because it was so beautiful.  And because as I read it, I could not wait to hear my students filling in the spaces.   There is no better book to read.
Well, that's it for now!  My pile of new books is only a little smaller now but I'd better stop!  Thanks for stopping by and please share the book that caught your eye!