I'm happy to be joining in the weekly IMWAYR posts, hosted by Jen from Teach Mentor Texts and Kellee from Unleashing Readers. 
Dolphin SOS – Roy Miki
This powerful story is based on a true event that occurred off the coast of Newfoundland.  It is the story of some children who, after following the sound of cries, discover 3 dolphins trapped under the ice.   When the government does not supply the proper support, (hmm… connections anyone?) the children take it upon themselves to rescue the distressed dolphins themselves. This is a powerful story of perseverance and I know my students will be captivated as the story unfolds.  The illustrations are stunning and reminded me of Steven Jenkins's collage style.  I LOVED this story and I have added it to my collection of QUESTIONING books!
Hug Machine – Scott Campbell
This simple heart warming book will inspire hugs from everyone!  This adorable little boy has mad hugging skills and finds a way to hug everyone and anyone!  (even whales and ice cream trucks!)   The illustrations are soft and simple and the expressions on this hugger's face are delightful – I was smiling on every page!  I HUG this book!
The Flat Rabbit – Barour Oskarsson
Well, I was a little unsure of this book when I first started reading it as the "flat" rabbit is referring to a dead rabbit.  But after a second and third read, I came to the realization that this book is really about death but deals with the concept with a quirky, gently and compassionate way with just a touch of humour.  This book is about caring and thoughtfulness and how a dog and rat pay respect to their "flat" friend.  I loved the illustrations and the fact that the story is told in simply and with little text.  Another great choice for inferring as there is lots of space for readers to add their thinking.
 Fox's Garden – Princesse Camcan
This is a beautiful (and I mean BEAUTIFUL!) wordless picture book (think INFERRING!)  that tells the story of a lost fox who, when turned away from by the adults of the village, is treated with kindness and care by a small boy.  It is a gentle story of compassion, kindness and gratitude.  The soft illustrations made me sigh… ahhhh… this is a gem.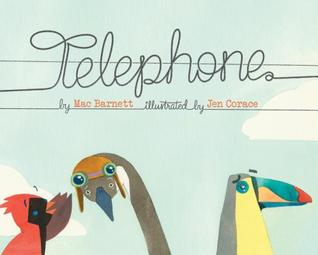 Telephone – Mac Barnett
Remember the game of "telephone" you played as a child?  Whispering a message down a line and then laughing at how it changes? In this book, Mama bird wants her son Peter to come home for dinner, so she sends the message down the telephone line, literally! The message moves down the line from bird to bird but gets garbled as it goes. What makes the book fun is seeing how each bird adds their own interest to the message – which makes it a perfect book for practicing INFERING!  The illustrations give hints too!  Lots of fun!
 Leory Ninker Saddles Up – Kate deCamillo
Yippie-Kai-Eh!  What is not to love about this book?  It has action, great characters, humour, and fabulous illustrations by Chris Van Dusen.  Leroy dreams of becoming a cowboy – he has hats, boots and a lasso and he is ready to stand up for justice!   All he needs is a horse!  Enter Maybelline – the horse who puts an add in the paper to find a new owner.  And there you have the makings of a delightful first book in a new beginning chapter series by the brilliant Kate deCamillo!  Would make a great read-aloud for Gr. 2-3!
El Deafo  by Cece Bell
When author/illustrator Cece Bell was 4, she contracted meningitis and lost the hearing in both ears.  Nicknamed "El Deafo", when she began school in the early 70's, she was "hooked up" to a awkward and very unattractive, bulky boxed hearing aide.  But with it, Cece discovers she has super sonic ear powers!  This inspiring graphic memoir recounts the story of Cece's real life experiences trying to come to term with her disability and trying to develop both confidence in herself and in her ability to make friends.  The characters, depicted as rabbits, are delightful, the writing is poetic and Cece is brave and beautiful.  I could not put this book down – it is tender and insightful and I loved every frame.
Dark Lord –  The Teenage Years – Jamie Thomson
This book is hilarious!  When Dark Lord hurls down to earth unexpectantly, he lands in a parking lot trapped in the body of a 13 year old.  When Medics arrive, he mumbles,  "I am the Dark Lord" – but what comes out sounds like "I am Derk Llyod"!  I was laughing out loud when I read this!  So the poor "Dirk Lloyd" gets placed into a foster home – where he proceeds to try to prove who he is, while dealing with a cast of characters from the foster home!  Clever, funny, great writing!
Thanks for stopping by!  What book or books have caught your eye?