It's Monday and I'm happy to be participating in a weekly event with a community of bloggers who post reviews of books that they have read the previous week. Check out more IMWAYR posts here: Jen from Teach Mentor Texts and Kellee and Ricki from Unleashing Readers
In celebration of Picture Book Month, I am posting some of my favorite picture book biographies!  I love sharing the true stories of extraordinary people with my students.  Gone are the days of boring biographies – these books are beautifully written, exquisitely illustrated and will inform and inspire you!
Nelson Mandela – Kadir Nelson
The courageous life of this man is a must share book.  Nelson Mandela – who stood up for his people and over time, won his fight because of his courage and his values.   He was, in my opinion, the bravest man who ever lived.
Manfish – A Story of Jacques Cousteau – Jennifer Berne
I remember my dad watching amazing Jacques Cousteau documentaries on TV when I was little.  This is a simple and beautifully told story of Jacques Cousteau, famous oceanographer – following his curiosity and infatuation with the sea as a child, to his inventions, his movies, his explorations and finally his conservation efforts.  This book will captivate your students!
The Watcher:  Jane Goodall's Life with the Chimps – Jeanette Winter
I am a long-time admirer of Jane Goodall.  This is a wonderful biography about her life's work observing and protecting the chimpanzees in Africa.  I love how the theme of Jane being a "watcher" is the thread of the story.   Fascinating, intriguing details of her life without being overwhelming.  Jeanette Winter is a master at highlighting the interesting "chapters" of a life story. 
The Noisy Paint Box: The Colors and Sounds of Kandinsky's Abstract Art – Barb Rosenstock.
When young Vasya Kandinsky was a young boy in Russia, his aunt gave him a box of paints.  To Kandinsky's amazement, when he opened the box, he "heard" the colors!  This is the fascinating story of the world's first abstract artist  – the boy to whom colors were sounds.
The Tree Lady:  The True Story of How One Tree-Loving Woman Changed a City Forever – H. Joseph Hopkins
The important and inspiring story of Katherine Olivia Sessions – the woman who in the 1860's,  brought lush, green life to the dry desert landscape of San Diego.  I was so captivated by the gorgeous art on this cover – but loved the celebration of nature as well as discovering the life of a person I had never heard of before.
The Iridescence of Birds: A Book About Henri Matisse – Patricia McLachlan
Well you can't get much better than one of the greatest writers sharing the story of one of the greatest artists! This is a wonderful introduction of the early life of Henri Matisse – where his creative inspiration came from and the influence he had from his parents (his mother painted on dishes and always laid bright, colorful rugs on the floors of their drap cottage in the south of France; his father bought him pigeons) LOVE the title! 
Brave Girl:  Clara and the Shirtwaist Maker's Strike of 1909 – Michelle Markel
A picture book biography about Clara Lemlich, the brave young girl who organized a strike in 1909 to improve working conditions for the young women employed in the garment industry factories.

This is an excellent historical non-fiction biography to show children that one brave girl can make a huge  difference. 
The Boy Who Loved Math: The Improbable Life of Paul Erdos – Deborah Helligman
And again, I find myself learning about a person I had never heard of before!  This is the extraordinary life story of Paul Erdos – the mathematician. As a child, Paul was fascinated with numbers.  This biography depicts his life as a young child to an old man as he embarks on a mathematics journey,  traveling all over the world and learning as much as he can from other mathematicians.
Helen's Big World: The Life of Helen Keller – Doreen Rappaport
This is a gorgeous, poetic, beautifully illustrated introduction to the life of Helen Keller.   Exquisite writing, large pictures and beautiful quotes woven throughout the book.  Inspiring.
The Right Word – Roget and His Thesaurus – Jen Bryant
I love words and I love this book!  This book tells the story of Dr. Peter Roget, doctor, inventor, scientist, list-maker, and creator of the thesaurus.  It is such an exceptionally beautiful book – both in the way the story is written and the extraordinary illustrations.  A celebration of triple scoop words – this book isn't just "good" – it's
remarkable, extraordinary, staggering, incredible, stunning, astonishing, marvelous, phenomenal, outstanding and splendid!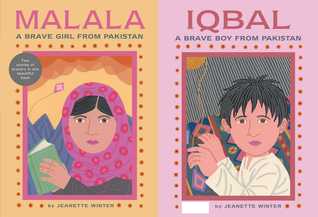 Malala and Iqbal – two brave children from Pakistan – Jeanette Winter
This latest release by Jeanette Winter is two inspiring stories of brave children woven into one book.   From the front – we read the story of Malala who stood up for her belief that girls should be allowed to attend school; from the back, we read the story of Iqbol – the young boy who, alone, stood up against the inhumane child slavery conditions in the carpet industry.   Both were brave; both were heroes; both were shot. Their stories must be heard.
Becoming Babe Ruth – Matt Tavaras
This is a wonderful introduction for younger students to the life of Babe Ruth.   I love the simple text and large life-like illustrations.  I knew Babe Ruth as a famous baseball player but didn't know of his troubled life and how much he had to overcome as a child.  Life is what you make of it is the message behind this inspiring story.
What are YOUR favorite picture book biographies to share with your students?