It's Monday and I'm happy to be participating in a weekly event with a community of bloggers who post reviews of books that they have read the previous week. Check out more IMWAYR posts here: Jen from Teach Mentor Texts and Kellee and Ricki from Unleashing Readers
The new books just keep on coming and I have am happy to share a few more that have caught my eye this week!
Sometimes You Barf – Nancy Carlson
It's flu season!  And if you didn't think it was possible to smile or even giggle at the thought of barfing – you will change your mind when you read this book!  A young girl narrates us through her nasty flu bug and, in the process, explains how everyone barfs, even animals.  The message?  Sometimes you barf, sometimes in embarrassing places – but life goes on!  Nancy Carlson has been writing books for kids for FOUR decades!  She always manages to write simple, playful books that we can all connect to!  Kids will LOVE this book, especially because it has the word "BARF" in it!  Great book for making connections!
Pirate, Viking and Scientist – Jared Chapman
Viking is a friend of Scientist; Pirate is a friend of Scientist; Pirate and Viking are NOT friends!  So what happens when your two friends get along with you but not with each other?   Why, use your scientific brain, of course!   This is a wonderful story that not only focuses on the issues of friendship and conflict resolution but introduces the basic scientific method to readers.   Clever, fun, great "triple scoop words" and a lots of examples of how to use grid paper!  I loved this one! 
Bunjitsu – John Himmelman
This book has a LOT going for it – big font, fun illustrations, beginning chapter book, martial arts, child-friendly scenarios, strong, feisty female character all woven together with Eastern philosophy! Each chapter is a subtle lesson about values such as creative thinking, hard work, and persistence.  Zen philosophy for beginning readers – what more could you ask for?
Mr. Squirrel and the Moon –  Sebastian Meschenmoser
If you loved Waiting for Winter as much as I did, you will be thrilled to see Squirrel is back!  This time, he discovers the moon has fallen from the sky and landed in his tree.  Squirrel is worried others may think he has stolen the moon, so he attempts, with his woodland friends, to return it.  This story is hilarious – with classic Maschenmoser detailed, pencil illustrations that often tell a different tale than the text.  A perfect book for practicing inferring with the younger students.  LOVE!
When Otis Courted Mama – Kathi Appelt
What happens when your mom starts dating a man you don't really like?  Cardelll the coyote,  isn't exactly thrilled when his mother begins dating Otis, the neighbor.  This great book would be a great anchor to introduce children about accepting and adjusting to a new step-parent.  I loved the dessert setting and the colorful illustrations.
The New Small Person – Lauren Child
Many emotions are explored in this story of learning to accept a new sibling.  I love Lauren Child's signature style and her way of capturing situations children can connect to.  Elmore – great name, great character, great book!
Earmuffs for Everyone!: How Chester Greenwood Became Known as the Inventor of Earmuffs – Meghan McCarthy
This non-fiction biography describes the evolution of he earmuff and the story of Chester Greenwood – credited with being the inventor of the earmuffs.  However, the earmuffs were actually invented before he was even born!  He was born with big ears that were sensitive to the cold so his grandmother made him some earmuffs out of wire and cloth.  At 19, he patented the design and was credited with the invention.  I liked how this book shows the actual evolution of the invention and how different inventors improved on each other's designs.
Where Does Kitty Go in the Rain – Harriet Ziefert
This WONDERFUL book combines a fictional mystery about a girl searching for her cat during a rain storm with nonfiction facts about rain.  As we search for Kitty, we discover such things as what makes a duck waterproof and where do butterflies go to stay dry.  Beautiful art and lovely rhyming text. I loved the combination of mystery and science.  This is a little gem!   
Wall – Tom Clohosy Cole
This book was written to mark the 25th anniversary of the destruction of the Berlin Wall.  It tells the story of a young boy, mother and sister who are separated from the father during the building of the wall and follows their journey as they try to re-unite.  The digital illustrations are stark and striking.  This is a thought-provoking book and would be a great introduction to the Berlin Wall for older students.  (Warning:  Sometimes the blue print on black page was hard to read.) A good book for Questioning.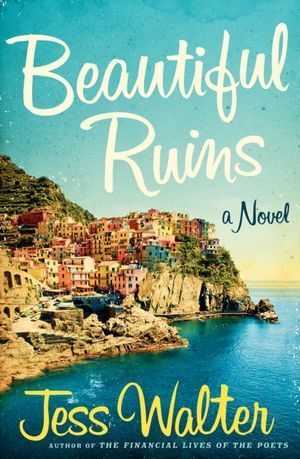 Beautiful Ruins – Jess Walter
My book club just finished reading this book and loved it.  It weaves together two stories – one set in an Italian fishing village in 1962 and the other in present day Hollywood.   At the heart of this book is a tender love story of the Italian hotel owner, Pasquel, who falls in love with the Hollywood actress who comes to his hotel to recover from an illness.  Fifty years later, he shows up at a movie set in Hollywood, searching for her.   This book is romantic, tender, funny and a colorful mix of travel, music, books, movie pitches, acting, movie stars, relationships, Hollywood, Italy.   An amazing cast of characters, sub-stories and a wonderful setting.  Pasquel fell in love with a movie star – I fell in love with Pasquel.
What are YOU reading this week?  Thanks for stopping by!  Please leave a comment and let me know which book caught your eye!