It's Monday and I'm happy to be participating in a weekly event with a community of bloggers who post reviews of books that they have read the previous week. Check out more IMWAYR posts here: Jen from Teach Mentor Texts and Kellee and Ricki from Unleashing Readers.
Last week, I was thrilled to receive a box of new Spring Releases from Canadian children's book publisher Kids Can Press.  I am on their list for previews.  There are MANY wonderful books that I am excited to share.  This week I will focus on the fiction books, and next week I will share the nonfiction titles.
Eat, Leo! Eat! – Caroline Adderson
There is a lot to love about this one! Every Sunday, Leo's large Italian family meet at Nona's house for a big, noisy meal of her homemade pasta. Leo, who we infer is a bit of a fussy eater, does not want any. … So Nona tells him a story about a little boy who is going to see his Nona, but she cleverly weaves the shape of the pasta into the story. As Leo listens to the story, his appetite grows. Each week, Nona tells a story connected to the shape of the pasta. One week stars, one week bow-ties. This book is a celebration of food, family, traditions and pasta! There is a glossary of Italian words at the front, an interesting pasta page at the back and charming illustrations. If you love pasta, family gatherings or anything Italian – this is the book for you! 
Me, Too!  – Annika Dunklee
There are many books with a similar friendship theme:  what happens to best friends when a new friend comes onto the scene, the feeling of being left out, "three's a crowd" scenario.   (Think The Worst Best Friend and Chester's Way) What makes this one unique is the addition theme of international friendship – one of the girls is from Sweden and one is from France.  This book is also adorable – simple text, charming illustration, humor (Annie makes up words so she, too, speaks "another language").  The author does an excellent job of showing girls how to express themselves in a productive & inclusive way.  Lovely book!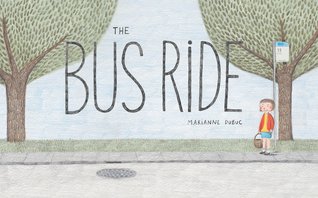 The Bus Ride – Marianne Dubuc
This sweet book (first published in France) is reminiscent of Little Red Riding Hood. This simple story is about a young girl, riding the bus alone for the first time, on her way to visit her grandmother's house.  Along the ride, passengers including rabbits, a bear, a turtle, a mouse and a very sleepy sloth come and go at each stop.  This is not a book to rush through.  Much of the pleasure of is found in the soft, detailed illustrations.  Subtle things change on each page and children will want time to look closely at the pictures, particularly after the tunnel switches things around.  Pay attention to the newspaper headlines!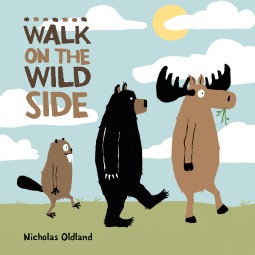 Walk on the Wild Side – Nicholas Oldland
This book is adorable – so much to love about it!   It is the latest in a series of books that feature these loveable characters.  Moose, bear and beaver are all friends who love adventure but sometimes their competitive nature gets in the way of their fun.  The three set off one day to try to hike to the top of a mountain – and things begin to go sideways.  This is a wonderful story about friendship, compromise and working together to reach a goal.  There is humor, colorful illustrations and wonderful messages about working together and about stopping to appreciate the moment.
My Family Tree and Me –  Dušan Petričić
This unique celebration of family ancestry traces four generations of a young boy. From the front of the book, we trace the family from his father's side and from the back, you trace the family from the mother's side. They all come together in the middle of the book to show the boy's family tree.  A beautiful, simple introduction to the concept of family ancestry and I particularly like the cultural diversity of the boy's family which shows both European and Asian ancestors. Includes amazing illustrations by the award winning Canadian illustrator (The Boy and the Violin). This book would make a wonderful springboard for having children research and create their own family tree. 
Jasper John Dooley You're In Trouble – Caroline Adderson
There is always a need for early chapter books for ages 7-9 that feature boys so I would highly recommend this series to have in your library!  This book is the 4th in a series that features the delightful Jasper John Dooley.  In this book, Jasper accidently choses an energy drink from the vending machine.  He knows it's bad but he hides the drink and keeps taking sips from it, eventually learns important lessons about making good choices.  I love this book – it's funny, age-appropriate, realistic characters, short chapters, larger font (I didn't need my reading glasses!) and cute illustrations.
                                             The Ghastly McNastys – The Lost Treasure of Little Snoring – Lyn Gardner
Ahoy maties!  If you are 7-10 year old and love a real rip-roaring tale of adventure, filled with nasty pirates, kid heroes, silly humor and jokes about slime, boogers and butts then this is the book for you!  The McNasty pirates are twin brothers, Captain Gruesome and Captain Grisly McNasty who sail in their ship, The Rotten Apple, in search of treasure. This is their first adventure in which they attempt to discover a lost treasure on the Island of Little Snoring.  This book is hilarious, includes great illustrations, some wonderful triple-scoop words and a surprisingly good plot.  While I may not chose this book for literature circles, I can see kids loving this first in a series featuring the Ghastly McNasty brothers!
The Confabulist – Steven Galloway
For book club this month, we are reading The Confabulist by Canadian author Steven Galloway, author of The Cellist of Sarajevo. This book is a fictionalized account of the life of Harry Houdini and the young man, Martin Strauss, who supposedly contributed to Houdini's sudden death.  Strauss suffers from a memory disorder, called confabulation, in which one produces fabricated and distorted memories about oneself.  The person who experiences this is unaware that they are making up stories so are usually confident that they are speaking the truth.  The book moves from Strauss's story to Houdini's story, and much is left for the reader to fill in (lots of inferring!) how the two men's lives connect.  This book is a mix of historical fiction, mystery, conspiracy theory, secrets behind magic and also about love, loss, truth and identity.  I'm not finished it yet, but so far, I am intrigued.  I love the two voices in the book and especially when the voice of Houdini reveals some of the secrets behind some of his magic tricks.  I'm fascinated by how these two stories are going to come together but will have to keep reading!
Thanks for stopping by!  Please leave me a message to let me know which books have caught your eye!