Yesterday's post featured picture books celebrating Spring, which got me thinking about gardening!  Spring is a wonderful time to explore gardening with your students.  At my school, we have designated planter boxes.  Each class has it's own "plot" to plant seeds and grow flowers and vegetables.  Planting seeds with your class invites so many important hands-on learning opportunities to investigate, wonder, observe, explore and discover nature.  Below are some of my top favorite books about imagining, growing, gardening and planting that will inspire you and your class to get gardening!  I have tried to include a balance between the realistic, information books with some delightful, imaginative ones!
Tokyo Digs a Garden – Jon-Erik Lappano (2016)
Over the years, there have been several imaginary fables about growing gardens that share a similar environmental theme:  The Curious Garden by Peter Brown; The Promise  by Nicola Davies; Frog Belly Rat Bone by Timothy Basil Erig.  We can now add this brand new release to this list!  This thoughtful story provides readers with many questions about the environment as we follow a young boy who plants seeds in his nature-less urban city, resulting in an overnight, overgrown burst of nature.  While some think this is a positive transformation to the city, the sudden dense growth of wilderness results in many issues about controlling and taming it.  Very thought-provoking.
2.The Night Gardener – Terry Fan (2016)
WOW.  This debut picture book is stunning!   A magical, mysterious story set in a small town, filled with cozy houses, glowing moons and lanterns.  The muted, detailed illustrations reminded me of Chris Van Allsburg.  In the story, the people of Grimloche Lane begin to notice trees being sculpted into unexpected and magical shapes during the night.    Who could be doing this?  Oooooo – this is a perfect book for Questioning!  I can't wait to read it to students!
3. Stories From Bug Garden – Gwen Millward (2016)
So much fun!  Life in an overgrown garden from the perspective of the insects that inhabit it. Charming and whimsical with lovely illustrations.
4. Up in the Garden and Down in the Dirt – Kate Messner  (2015)
In her follow-up to the amazing book Over and Under the Snow, Kate Messner invites us to explore the wonders of the garden – from the growing vegetables below to the riping fruit above.  There are SO many lessons that this book inspires – including art, science and, of course, gardening!  This book is a MUST!
5. The Little Gardener – Emily Hughes (2015)
A tiny gardener struggles to care for his garden.  While the main theme of this book is about perseverance and faith, the garden setting and focus on planting and growing makes it a perfect book to share during your garden study!  Layered with meaning and filled with gorgeous illustrations.
6. My Garden – Kevin Henkes (2010)
I LOVE this book and use it both as an anchor for practicing visualizing (don't show the students the pictures!) and for inspiring "My Imaginary Garden" writing!  Delightful story of a girl's imaginary garden filled with "tomatoes as big as beachballs", "chocolate rabbits" and "plants that never die", and  "strawberries that glow like lanterns".   Great examples of similes and anchor lines!  Delightful!
7. Looking Closely Inside the Garden – Frank Serafini (2008)
Looking Closely series explores different environments, including the forest, the seashore, the desert and this one, the garden.  Frank Serafini's uses gorgeous close-up photography and engaging, interactive text to invite readers to explore nature and guess just "what could it be?" .  These books make great read-alouds, and invite many "Oooo's" and "ahhh's"!
8. Flip, Float, Fly: Seeds on the Move – JoAnn Early Macken (2008)
While not exactly a gardening book in the traditional sense, this poetic book takes a look at the fascinating world of seeds that fly through the air and how they spread and grow.  Great nonfiction read-aloud with good plant vocabulary.  Great links to science and could also be used to talk about different ecosystems.
9. A Seed is Sleepy – Dianna Hutts Aston (2007)
A gorgeous, detailed, informative, unique introduction to the world of plants and seeds.  I love the quiet tone and exquisite poetic language, making it a favorite read-aloud. Gorgeous watercolor illustrations.  (Other books by this amazing team include An Egg is Quiet, A Rock is Lively and  A Nest is Noisy)
10. Flower Garden – Eve Bunting (2001)
This story is one to share close to Mother's Day!  It tells the story of a young girl and her Dad, living in an urban apartment, who travel by bus to the grocery store to buy materials to make a lovely flower box to give to the girl's mother. The story is simple and the rhyming text is filled with excellent gardening vocabulary.  Gorgeous illustrations!  This book makes an excellent anchor for re-telling and transition words (first, next, then…) as it follows the steps for planting seeds.
11. Planting a Rainbow – Lois Ehlert (2001)
Lois Ehlert's signature vibrant collage illustrations fill the pages as we learn to plant and nurture bulbs, seeds and seedlings, and nurture their growth. This book is extra large, making it perfect for sharing with a class!  Will inspire some great art lessons as well!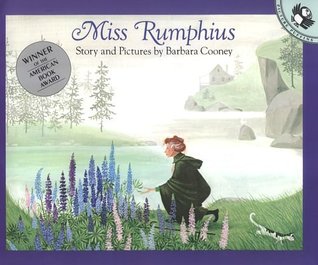 12. Miss Rumphius – Barbara Cooney (1985)
Beloved classic story of an old woman who, in living out her life-long dreams inspired by her grandfather, plants lupine seeds to "make the world more beautiful."  This is one of my all-time favorites!
Runners Up:
The Gardener  – Sarah Stewart
Mrs. Spritzer's Garden  – Edith Pattou
Jack's Garden – Henry Cole
From Seed to Plant – Gail Gibbons
The Promise – Nicola Davies
Frog Belly Rat Bone – Timothy Basil Erig
And Then It's Spring – Julie Fogliano
The Imaginary Garden – Andrew Larsen
The Carrot Seed – Ruth Krauss
The Garden of Abdul Gasazi – Chris Van Allsburg
Thanks for stopping by!  What is your favorite gardening picture book?