Teaching children to persevere through challenges is an important step in helping them develop a growth mind-set.  The older I get, the more I come to realize that it is though failing that we succeed; through disappointment that we develop resilience; and through challenges we face that we grow stronger.  Sharing picture books where characters are faced with and overcome challenges is a great starting point for teaching these important life lessons.  Here are my top picks for promoting perseverance and growth mindset.
You Can Do It, Bert!  – Ole Konnecke
Bert is gathering up courage to launch into flight.  This is a fun tale about taking a leap of faith and trying something new. It's good to face our fears, whether it's learning to fly…or something else.  Sweet illustrations and I loved Bert's encouraging friends.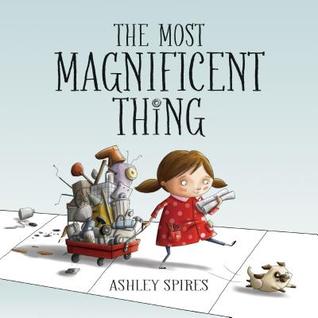 The Most Magnificent Thing – Ashley Spires
I love using this book to teach critical and creative thinking, problem solving and perseverance.  When a little girl decides to make a "most magnificent thing", she finds herself becoming more and more frustrated when things don't work the way she had planned.  Although she keeps trying, she eventually has a melt-down and quits!  It's only when she re-visits her plan, reflects on her mistakes, and develops a new plan that her"magnificent thing" is finally built!  I used this book as the anchor for a school-wide "MMT" (Most Magnificent Thing) project.  You can read about it on my blog post here.
The Thing Lou Couldn't Do – Ashley Spires
I'm a big fan of Ashley Spires so was excited to read her new book when it came out this fall.  Lou is an adventurous, imaginative girl who loves to play with her friends.  But when they decide to play pirates and climb a tree, Lou hesitates.  She doesn't know how but is afraid to admit it.  Great messages about trying new things, overcoming fears, and not making excuses.
Jabari Jumps – Gaia Cornwall
Every child can make connections to being on that diving board for the first time and looking down into that pool.  This is wonderful book about facing and overcoming your fears.  Great for making connections!  Big clear words and pictures with views from below and above fill the pages.  I loved the view from the diving board with "his toes curled around the rough edge".  LOVE!
Rosie Revere, Engineer – Andrea Beaty
This amazing picture book shows the importance of failing before you can be truly great – and it's a wonderful story about self-esteem.  I love this great, smart young role model and the rhythm and rhyme of the text.  Delightful read-aloud!
When Sophie Thinks She Can't... – Molly Bang
"When Sophie Gets Angry- Really, Really Angry" by Molly Bang has long been one of my "go to" connect books for managing feelings and emotions. This new companion "Sophie" book, "When Sophie Thinks She Can't…" is the perfect anchor book for introducing the concepts of "Fixed" and "Growth" mindsets to your students, as well as problem solving and perseverance. Would also be a great link to Math as Sophie is frustrated with tangram puzzles.
What Do You Do With a Problem? – Kobi Yamada
An excellent book to explore a variety of problem-solving strategies with your class at the start of the year.  An inspiring companion to What Do You Do With an Idea?  Love the message that we have the power to turn problems into opportunities.
Your Fantastic Elastic Brain – Stretch it, Shape it! – JoAnn Deak
Fascinating non-fiction book about the brain about the importance of learning new things & making mistakes in order for your brain to grow.  Love the illustrations and the "voice" of the narrator.  Although this book does include some scientific vocabulary, it is clear and colourful and communicates the message that your brain is an amazing thing and that you should learn from mistakes and challenges.  Perfect for growth mindset!
Flight School – Lita Judge
SOOOO love this book about an adorable penguin who has a dream to fly.  Brilliant message that encourages hard work and persistence in achieving your dreams. Beautiful illustrations, great humour –  this book is definitely one to share.  I love this penguin's tenacity and positive attitude!
More-Igami – Dori Kleber
Perseverance. Patience. Practice.  Joey, a little boy who loves to fold things, learns that he needs all three "P's" when trying to master the art of making an origami crane.  Instructions for making an origami ladybug is included in the back.  (was confused why it wasn't instructions for a crane…?)
After the Fall:  How Humpty Dumpty Got Back Up Again – Dan Santat
One of my favorite books from last year, After the Fall is beautiful, brilliant, inspiring and surprising!  A contemporary retelling of Humpty Dumpty, where we learn that after his fall, Humpty Dumpty developed a fear of heights.  I really appreciated the way that after Humpty Dumpty was physically put back after his ordeal, but still has to deal with the emotional impact.  Such a great story with a VERY surprising ending!
Lovely book about perseverance and teamwork.  Two unlikely animals team up to see if they can create a flying machine. Beautiful illustrations!
The Girl Who Never Made Mistakes – Mark Pett
The idea of perfectionism is explored in this charming book.  Such an important book to help children understand that it is through our mistakes that we grow and learn. "Mistakes are proof you're trying!"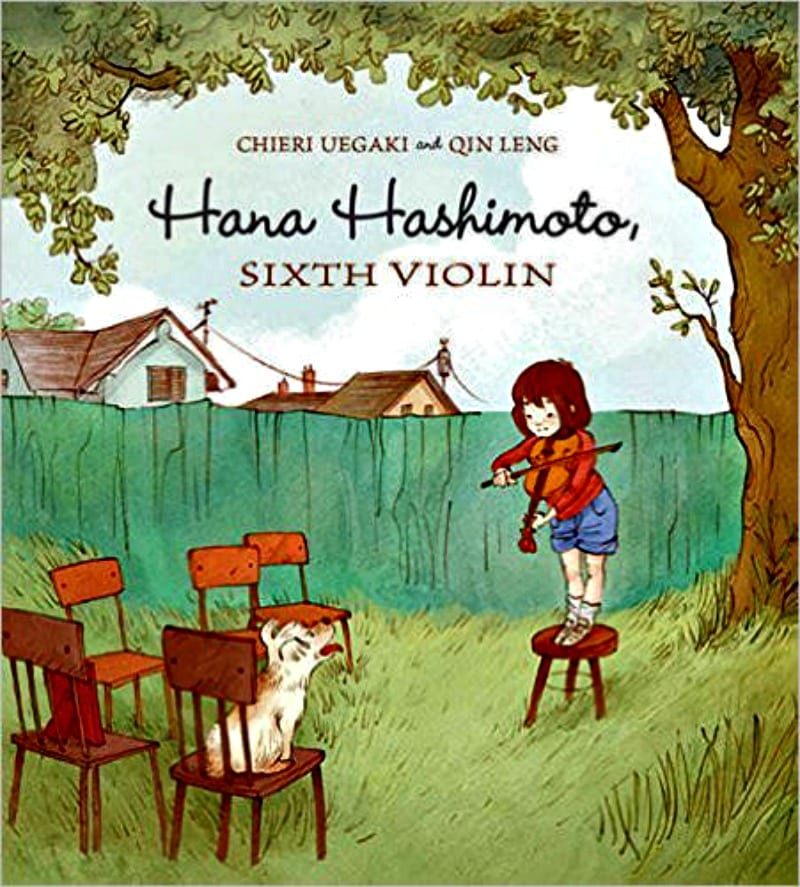 Hana Hashimoto – Sixth Violin – Chieri Uegaki
SO many things to love about this book!  It is an inspiring and beautifully written story of ambition, resilience, creativity and courage; an inter generational story about the special relationships with our grandparents; a perfect anchor book for making connections to family; and an amazing mentor text for writing descriptions and similes.  WOW!   LOVE this book!
If I Had My Black Belt – Millicent J. Mackeroy
A young girl dreams of what it will be like to have her black belt in Taekwondo. Her delusions of grandeur are very entertaining,  but in the end she reminds herself of the hard work and practice needed to earn her belt.  I LOVE this brand new book, this message, these illustrations – everything about it!
Thanks for stopping by!  What are your favorite books for teaching perseverance and "growth mindset"?