It's Monday and I'm happy to be participating in a weekly event with a community of bloggers who post reviews of books that they have read the previous week.  Check out more IMWAYR posts here: Teach Mentor Texts and Unleashing Readers
Despite my heartbreak at the fact that I will not be sharing these books with my students tomorrow, or the next day, or the next day after that due to the ongoing teacher's strike in B.C., I am happy to share them with you in the hopes that you are not on strike and can share them with YOUR students! I've had a little more reading time this past week so was able to read a few longer books.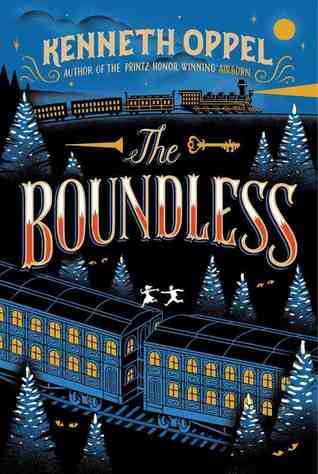 The Boundless – Kenneth Oppel
WOW!  This is an action packed adventure that I could not put down!  It tells the story of a young boy, Will Everett who is a first class passenger on The Boundless, the greatest train ever built.  (Think Titanic only a train!)  I loved how Kenneth Oppel has woven Canadian history and famous Canadian personalities (including Sasquatch!)  throughout the book, making it an excellent link to Social Studies.  Add a little magic and a few creepy bits and you have a fast-paced read-aloud!
Egg and Spoon – Gregory Maguire
Another wow for this YA book!  Egg and Spoon reads like a Russian fairy tale.  It is filled with exquisite writing, laugh out loud humour, fascinating and often twisted characters. It is the story of two young woman: a city girl born of privilege and a country girl suffering from poverty and loss.  After a case of mistaken identity, both Elena and Ekaterina, or Cat,  begin an adventure across Russia and up to the North Pole on a quest to save their country.  I really liked how Maguire wove Russian culture, legends and characters, including Baba Yaga,  through the story.  At times, I felt the plot was more suited for younger children but the writing style and complex plot makes it definitely one for the older crowd.  If I'm being completely honest, I felt that some parts were a little confusing and complicated and other parts went on too long – but overall well worth the read!   
The Swallow – A Ghost Story by Charis Cotter
Interesting that I happen to read two books featuring two female characters whose lives become entwined.   This one is AMAZING – I could not put it down!  It tells the story of the friendship of two 12 year old girls living in Toronto in 1963.  Polly – outgoing, bubbly, passionate… Rose – introverted, quiet and loves to sing and who, we discover, can see and talk to ghosts!  The story goes back and forth between the two different points of view.  This is truly a MUST READ book!  Enchanting, magical, mysterious – a great ghost story and a wonderful story of friendship.  I LOVED it!
Eveybody Bonjours!  by Leslie Kimmolman
This book follows a little girl and her family on a trip to Paris. The text is simple, the illustrations are charming.  Lots of French sites, sounds, smells and tastes – a peak into French life.  I think this would be a wonderful anchor book for writing about Canada or other countries.  There is more detailed information at the back of the book.  I want to go to Paris now, please! 
And Two Boys Booed – Judith Viorst
This new Judith Viorst book was released this week! It is an adorable story of a little boy who gets an extreme case of nerves when he has to sing in the talent show. Perfect for making connections! This book rhymes, it has lift the flaps and has a song that you will all be singing after just one read! Love Judith Viorst and I LOVE this book!
Bluebird – Lindsey Yankey
I was totally drawn to this book by the cover.  A bird's eye view from a bird's eye view.  This is a charming story about a bluebird who is searching for her friend, the wind.  The repetitive text and the extraordinary details in each picture makes this a perfect read-aloud or quiet bed-time sharing.  I love how determined the little bird is.   As soon as I got to the last page, I went back and read it again!
Take Away the A – Michael Escoffier
What fun this book is to read!  It's a delightful alphabet book goes through the alphabet and offers words where you take away a letter and get a new word. So, for example, for letter A, "beast" becomes "best" when you take the A out. The concept is a simple but so clever and humouous! I have already thought about ways of using this in class – having the students try to create their own "take away" words! 
I'm Gonna Climb a Mountain in My Patent Leather Shoes – Marilyn Singer
Sadie is all packed for her rustic family camping trip:  patent shoes? check!  ballerina skirt? Check!  Sparkly suitcase? Check!  I loved the spunk of this girl, who despite her "girlie-girl" appearance is a great role model for girl power!  She is fearless and determined to find Bigfoot and protect her family.  Great rhyming pattern and bright, colorful illustrations!
Dojo Daycare – Chris Tougas
Six rowdy children spinning out of control in their Dojo daycare, despite their master's effort to demonstrate "honor, kindness and respect". Fun, …great illustrations, wonderful rhyme – a perfect read-aloud. Kids will LOVE this one!
The Writing Thief – Using Mentor Texts to Teach the Craft of Writing – Ruth Culham
"It's been said that mediocre writers borrow…, but great writers steal" Using children's literature to teach writing – could there be a more perfect book for me? And since it would appear that I may have some more time on our hands next week, I'm excited to be spending it exploring this new book by Ruth Culham! 
Thanks for stopping by!  Please let me know which book caught your eye?