It's Monday and I'm happy to be participating in a weekly event with a community of bloggers who post reviews of books that they have read the previous week. Check out more IMWAYR posts here: Jen from Teach Mentor Texts and Kellee and Ricki from Unleashing Readers
My husband:  How's the beer on the deck?
Me:  I'm still in the book store.
My husband:  You are a nerd.
Me:  And proud of it.
I experienced book bliss this weekend when I spent over two blissful hours in Mosaic Books in Kelowna.   From the fiction, to the bargain tables, to the travel biographies, and ending with the children's section – I was in book heaven!
Here are just a few of the books that caught my eye (and some I had to buy!)
The Toad – Elise Gravel
I squealed with delight when I saw that Elise Gravel had added another book to her ever-so-popular-cannot-keep-these-books-on-the-book-shelf Disgusting Critter series.  A perfect balance between information and humour with a splash of gross topped off with delightful illustrations!  LOVE!
School's First Day of School – Adam Rex
Charming and whimsical, mark this as a wonderful new back to school read-aloud.   Told from the point of view of the school, this is a fresh perspective on first day jitters!  Delightful illustrations by Christian Robinson (Last Stop on Market Street)
Circle – Jeannie Baker
With a wheelchaired-boy's wish to fly as the starting point, we follow the incredible journey of godwits as they travel from Australia and New Zealand to the Arctic where they look for places to eat and breed.  Jeannie Baker's collage illustrations are stunning and I was happy to find more detailed information about the birds at the back of the book.
Lion Lessons – Jon Agee
Witty and charming book that teaches you the seven steps to becoming a great lion and earning a lion diploma!   This would make an excellent participation read-aloud, as younger readers can practice the steps of 'looking fierce' and 'pouncing around'!  What fun!
Douglas, You Need Glasses! – Ged Adamson
Adorable story about a near-sighted dog who needs glasses.  Gentle and humorous, children will laugh when Douglas mistakes leaves for squirrels and steps in the wet cement because he couldn't read the sign.  And yes, the print on the cover is blurry!
Let Me Finish! – Minh Le
Adorable book about a little boy who can't read a book without someone spoiling the ending for him. Sparse text and lively illustrations – this book will make a wonderful read-aloud for younger students and a good reminder for older students of how NOT to give a book talk!  
Louise and Andie and the Art of Friendship – Kelly Light
In this follow-up to Louise Loves Art, this book explores making new friends, and the challenges friends face when they don't see things in quite the same way.   I appreciated the realistic approach to their friendship fight and the hurt feelings that many students will connect to. I also liked that Andie was an Andy Warhol fan!
Ideas Are All Around Us – Philip C. Stead
The latest from one of my favorite authors, this book is inspiring and beautiful.  In it, an author and his dog go for a walk and discover stories everywhere.  This would make an excellent anchor book for writing workshop and discussing where ideas for writing come from.
Be Frank With Me – Julia Clairborne Johnson
Our last book club read of the summer was  a delightful read, with quirky, charming characters.  I fell in love with young Frank, an eccentric,on-the-spectrum, friendless 9-year old boy who has very little connection with his grade four classmates because he dresses in 1930's movie star costumes and has the wit and sophistication of an adult.  Frank is being looked after by a young publisher's assistant while his reclusive mother, the once famous Mimi Banning, completes her first book in decades.   This book is light-hearted, touching and thoroughly entertaining.  A wonderful debut novel and a perfect summer read.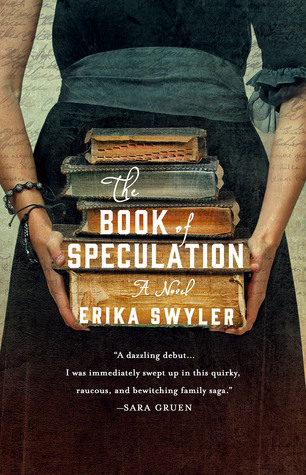 The Book of Speculation – Erika Swyler
And from the bargain fiction table at Mosaic, I picked up this 2015 release.  I was drawn in by the cover and started making connections to  The Night Circus  when I read..."A wonderful tale of mystery, magic, carnivals, mermaids, tarot and through it all is the book of speculation linking the lives of two families."  Sounds intriguing, I loved Night Circus – and it was on sale!  I'll keep you posted!
Thanks for stopping by!  Which book has caught your eye?