Hello everyone!  Hope you all had a restful weekend and enjoyed some time with people in "your bubble".  Things seem to be "opening up" slowly,  with "in person teaching"  scheduled to start next week.  I know that the thought of being back in schools with children brings with it a range of emotion and I am sending you positive thoughts and energy as you transition to yet another version of our "new normal".
Thank you for the positive responses to my weekly OLLI  posts "Online Learning Lesson Ideas".  I'm happy that you are finding them helpful for your distance lessons.
Here is a list of the previous OLLI lessons and anchor books:
OLLI#1 (The Hike)
OLLI#2. (If I Could Build A School)
OLLIE#3  (Mother's Day)
OLLI#4 (Everybody Needs a Rock)
OLLI #5 – (WANTED:  Criminals of the Animal Kingdom) 
Anchor Book:
This week's OWWI is based on the anchor book Up in the Garden and Down in the Dirt by Kate Messner and illustrated by Christopher Silas Neal – the second book in the "Over and Under" series. (See also Over and Under the Snow and Over and Under the Pond)  I love this series and have used them extensively in classrooms.  I particularly love the clever "split screen" illustrations in this series, showing life above and below the ground.   I thought this would be a great book to inspire children to get outside to enjoy the spring weather with their families and perhaps do a little gardening!  This book has SO many curriculum connections – you could spend a week or more planning activities in science, math, art, and writing, so be sure to add this title to your STEAM collection!
This book is a delightful textual and visual celebration of gardening layered with a wonderful inter-generational story of a granddaughter and her Nana.  We follow the young girl and her grandmother as they journey through the year planning, planting, and harvesting their garden—and learn about all the animal and insect life that we don't even see or suspect going on in the world "down in the dirt". Added bonus is the informative back notes including an author's note, bibliography and extra facts about the animal species encountered.
There are many versions of this book as a read-aloud available online, including the author, Kate Messner, reading it herself!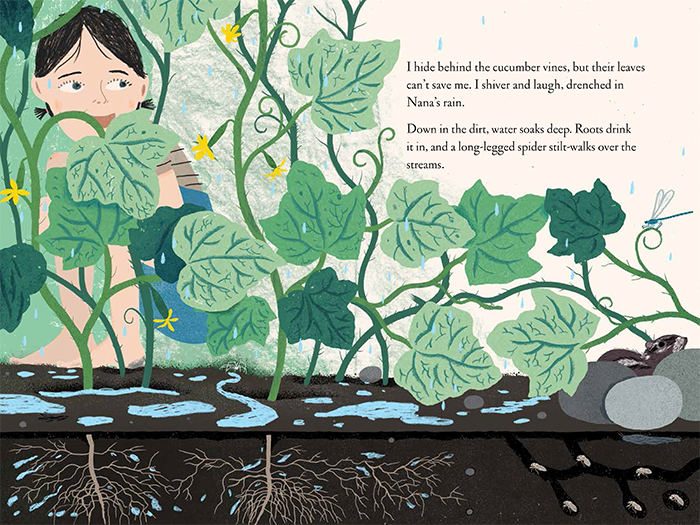 Lessons: 
After students listen to the story online, choose from any of the lessons below – or do them all!
Making Connections  – in the story, the girl is learning from her grandmother about many different aspects of gardening.  What connections do you make to this story?  What activities do you like to do with your grandparents?  What are some things they have taught you?                                                                                                Click HERE for the Primary Connections template.                                                            Click HERE for the Intermediate Connections template.
(For more lessons on Making Connections – see my book Reading Power)
"KNEW-NEW" Connections – after reading (listening to) the story, invite students to record facts they already KNEW about gardening and NEW facts they learned.  There are also spaces for visual images and questions on this page.                        Click HERE for the KNEW-NEW the template.
Art – Draw (and label) a "split screen" picture (see sample below) of "above and below" the garden.
Math – Students brainstorm a list of vegetables they would like to plant in their "garden".  Using a grid, they can plan out their garden, deciding where each vegetable should go and how much space (grid squares) it will take up.  This would be a perfect lead in to a lesson on AREA and PERIMETER.  I found this idea on Pinterest for planning a zoo, and while I would not do zoo planning with students (not a fan of them), I thought it would be a great idea for planning a garden!               Click here for the Math Garden Planning template 
Science – What does a seed need?  Students could learn about the "Fab Five" – five things a plant needs to grow:  sun, soil, space, air, and water
How To Writing – "How to Plant a Seed". Depending on whether your students have access to a garden, they could do some actual seed planting or just learn about it from one of the anchor books listed below and then write steps and tips on how to plant a seed.  (For more HOW TO writing ideas, see my book Nonfiction Writing Power or my new book, Powerful Writing Structures.)
Click HERE for the How To writing template for Primary (two pages)
Click HERE for the How To writing template for Intermediate.
Other lesson extensions:
Family Gardening Project – gardening with your family – students could join or  encourage their family to grow some vegetables or flowers and could participate in the planting and caring for the family garden.
Family Nature Activities:  Find backyard nature activities that students and families can do in their own backyard from the Project Learning Tree.
Inter-connectedness of nature  – students could learn and write about how plants and insects work together to support the cycle of nature.
Bug study – students choose one bug they learned about in the story and do a bug study.  Don't forget the back-notes in the back of Kate Messner's book that lists information about all the creatures included in the story.
Bug Identification – invite students to download the free iNaturalist app to practice taking photos of bugs and learning how to identify them (so cool!)  https://www.inaturalist.org/
Author study –Kate Messner is an AMAZING writer who has written dozens of picture books, Nonfiction, and MG novels. Download the Kate Messner Author Study Guide for more ideas!
Below are other recommended anchor books you could use to support this lesson, featuring books about gardening and insects.  Check Epic Books or YouTube for online versions of these books.
We Are the Gardeners – Joanna Gaines and Kids
In My Garden – National Geographic Look and Learn
If you are interested in more gardening education, here are some interesting websites I found:
https://kidsgardening.org/https://kidsgardening.org/in particular:   https://kidsgardening.org/blog-adapting-to-school-closures/
https://www.teachervision.com/search/gardening
https://www.plt.org/activities-for-families/in-your-own-backyard/
Have a great week, everyone!  Hope these lessons inspire some ideas for your online or in-person learning this week.  Happy reading and happy gardening!
You are doing an amazing job!  There is a light at the end of this tunnel! You can do it!!!