I am excited to be participating in my 3rd  Picture Book 10 for 10 event!  This celebration of picture books is hosted by Cathy from Reflect and Refine: Building a Learning Community and Mandy from Enjoy and Embrace Learning
Choosing only 10 picture books is a huge challenge for me as there are SO many amazing new ones to chose from.  Keeping with my tradition,  I will focus on new picture books that can be used for Reading Power – 2 books for each of the 5 Reading Power strategies:  Connect, Question, Visualize, Infer and Transform.  (You can check out my 10 for 10 2013 post here and my 2014 post here.)
Below are my favorite 10 picture books from 2015 that could be added to your reading power collections.
CONNECT
  My Family Tree and Me -Dusan Petricic
A celebration of both sides of a family through 4 generations, this book is a beautiful and simple introduction to the concept of ancestry and family trees.  A boy tells the family story of his father's side starting from the front of the book, and his mother's side starting from the back of the book. The illustrations are wonderful and I love the diversity shown in this inter-racial family (European father and Asian mother).  This would be an excellent book for children to make connections to their own family history.
See You Next Year – Andrew Larsen
This beautifully written book is an invites readers to connect to the comfort and familiarity of summer holidays and traditions.  I felt very nostalgic reading this and thinking of returning to familiar places each summer.  Timeless, dreamy, lovely.  Gorgeous illustrations.                                      
QUESTION
Sonia's Chickens by Pheoebe Wahl
Sonya takes her job looking after 3 baby chicks on a farm very seriously.  But when a fox kills one of them to feed her own babies, Sonya is devastated.  This book invites many questions – from life on a farm and raising chickens to interconnectedness of nature, the food chain and the circle of life. Gorgeous, rich Van-Gogh like illustrations add to this beautiful story.
In a Village By the Sea  by Muon Van
This engaging circular story is set in a small Vietnamese fishing village includes themes of family, community, diversity, rural life and nature.   The illustrations are spectacular and I love the way the story is full of surprises, leaving the reader wondering and guessing what is happening.
VISUALIZE
Beach House – Deanna Caswell
Visualize the joys of the beach and the essence of summer: building sand castles, jumping the waves, and watching the stars come out. Gorgeous illustrations – but don't show them until AFTER your students listen to the words and visualize!
The Moon is Going to Addy's House – Ida Pearle
What a beautiful book! Incredible imagery, with so much attention to detail. Magical story of a young girl driving home as the moon appears to follow her home.  The collage illustrations are exquisite and the words dance across the page.  LOVE this book!
INFER
Look! – Jeff Mack
I love using books with very little text to help younger students learn to infer.  It was a toss up this year between this book and Uh-Oh! by Shutta Crum but the adorable gorilla in this book won me over!  This is the story of a  little boy glued to the TV and a determined gorilla who is trying to get his attention.  Using only two words, (Look! and Out!) Jeff Mack tells an adorable tale of friendship.  Perfect for inferring with younger students.
The Queen's Shadow – A Story About How Animals See – Cybele Young
This book weaves a crime story with information in a unique, clever way.  The Queen invites her animal friends for a banquet.  During dinner, a crime occurs – the queen's shadow is stolen.  The royal detective interviews each character and then a small insert explains the real, scientific fact about the animal's eyesight that inspired its character's role in the story.  Readers need to use the clues to infer who may have committed the crime.  Brilliant!
TRANSFORM
Some Things I've Lost – Cybele Young
The brilliant Cybele Young has managed to make my list twice this year.  In this amazing book, she literally transforms everyday household objects that have been misplaced into magical, mysterious underwater creatures.  Clever, imaginative and slightly haunting.  And the next time you lose your reading glasses or your keys….
Last Stop on Market Street –  Matt De La Pena
This book will transform your thinking about compassion, diversity, poverty, gratitude, small moments, paying attention, gratitude, inter-generational relationships, family…. it is a true treasure of a book that will uplift your spirits and warm your heart.
 RUNNERS UP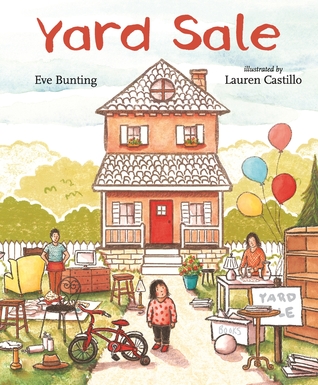 Yard Sale – Eve Bunting
This beautiful, tender story about a family downsizing and having a yard sale before they move is one of my favorites of the year.  Many will make connections to having or attending a yard sale, but the heart of this story will transform your thinking about "home":  it's not the stuff you have inside but the people you love there that make a home.
Pool – JiHyeon Lee
This beautiful wordless picture book perfect for inferring,  takes us on an imaginative journey of two shy children meeting for the first time under the water of an over-crowded swimming pool.  Imaginative, surprising, delightful.
Well there you have it – my top 10 picture books for Reading Power (plus 2!) for 2015.  I hope you found some new titles that you can use in your classroom!  What are your top picks of the year so far?