Stuck trying to think of something to buy that baby, toddler, or young reader in your life? Why not gift them with some BOOK JOY????   Welcome to the 2020 edition of my Holiday Book Gifting post!   I hope you find one or two books to gift to a special reader in your life this holiday season!  (Book Gifting for Tweens coming out soon!)
Happy reading and gifting everyone!
For Toddlers
Anyone who is looking for a board book to give to a new baby – this is it!  ADORABLE photographs and rhyming text celebrates all the ways babies and kittens are alike.  Off the chart on the cuteness scale.   This is the follow up to The Babies and Doggies Book (which I had never heard of but it's beyond cute as well!)
Look at this cover!!! Can you stand it?  How can you not make connections to that face?  With  just a few words and simple drawings, this story captures the emotional highs and lows of a toddler, as well as the poor folks having to deal with them.  LOVE this one!
Delightful Picture Books
Terrance the turtle is born without a shell so his parents strap on a box.  All is well until the other turtles tease him and Terrance begins a search for a new shell.  Another off the chart on the cuteness scale but also a lovely message about being yourself and loving who you are.  Not preachy – just sweet.
Hilarious story of a bear who is VERY bad at hiding.  This one will have you and your kids laughing out loud!
One of my favorite picture books of 2020, The Barnabus Project is a stunning story both visually and emotionally.  Barnabus is half elephant and half mouse (think Island of Misfit Toys in Rudolph) so is banned to the basement of the Perfect Pet Shop with the other "Failed Projects".  Love this story.  Hug this story.  Share this story.  
So, so clever! A perfect combination of words and illustration pulls the reader in and makes them pause at each spread.  Simplicity, beauty, and wonder – this is picture book perfection!  LOVE!
A charming story about cherishing old friends and making new ones that takes readers quietly through the four seasons.  Gentle and calm and with beautiful illustrations.  This is a cozy-curl-up-and-read-together kind of book!
Another sequel to the wildly popular, viral sensation "Wonky Donkey" series.  This one is about Grandma Donkey and, like the others, is filled with cute, tongue tied rhythms.  Lots of fun!
Love this new edition to the Grumpy Monkey series.  This one will have you laughing at Monkey who is determined to stay up all night!
This is a fun, rhyming tale of a young boy who loves the Knights of the Round Table and dreams of one day joining their ranks as an assistant Knight.  Perfect for anyone who loves Knights, dragons and underwear!
Not Me – Elise Gravel
"Who's responsible for this mess?"…"Not me!"  Hilarious book all parents will relate to!  The "Not Me" monster comes to life in Canadian author Elise Gravel's new book.  Available in French.
New for Beginning Readers
Dav Pilkey is back with a new graphic novel series about a cat who starts a comic writing club.  Such a great book for inspiring creativity!  Why not gift your budding cartoonist with this book and a blank comic book (see below) so they, too, can draw comics like Cat!
A perfect gift for your budding cartoonist.  An entire book filled with blank comic book frames and empty speech bubbles!  LOVE this for home but a great one for having on hand at school!
For the BAD GUY fans in your family, here is the latest in the series.  Soon to be a major motion picture!
For Wimpy Kid fans, here is a new series by Jeff Kinney.  This one is filled with adventure, fantasy, quests and LOTS of LOL moments.
Fun Facts
Calling all Unicorn and Dragon lovers!  This one is packed full of "facts" about all the mythical creatures you can imagine.  Beautiful illustrations
This book would likely not appear on any of my GEARPICKS recommended lists – but for the obsessed Minecraft player in your house, this one might be a big hit!
Perfect family fun for the holidays.  This book is jam-packed with stories that are too crazy to be true and asks readers to separate the facts from the fakes! Also available in a Histories and Mysteries edition.
For the Family Foodie
A perfect book for the budding foodie in your family.  Filled with great recipes, tips and tricks, nutrition, and amazing photographs.  Yum!
A Little Festive Fun
Great stocking stuffer and perfect for engaging the whole family with hilarious festive "would you rather" scenarios. Perfect for sitting around the table between courses!
For a little quiet time or lap snuggling, this book is perfect for toddlers who might need a little calm as they search for hidden Christmasy things!
Mac Barnett is such a clever writer and his Jack series is just hilarious for beginning readers.  Here is the latest that has Jack worried when he finds himself on the Naughty List.  Great twist at the end!
I adore Narwhal and Jelly stories – simple graphic novel format for your beginning reader.  This one is filled with more delightful and funny adventures wrapped in Christmas cheer.
Beloved author Eric Carle brings everyone's favorite little caterpillar along to introduce the littlest readers to Hanukkah in this colorful counting book.  This simple board book takes readers through the 8 nights of Hanukkah and the wonderful traditions and symbols of the Festival of Lights.
Todd Parr never disappoints and his delightful new book looks at all the simple things that brings us joy.  Signature illustrations – his books always make me feel good when I read them!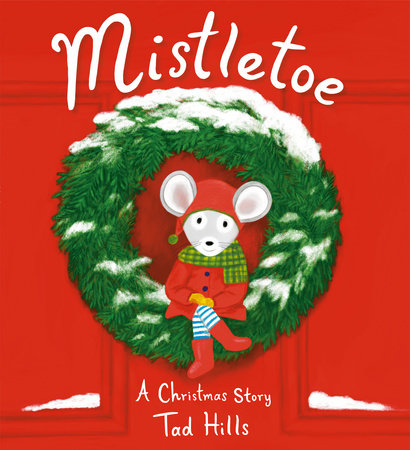 Such a sweet story about a mouse who loves to play in the snow and an elephant who prefers to stay inside.  A gentle, funny (the last page is HILARIOUS!) story about friendship and gift giving, just right for the Christmas season.
Thanks for stopping by!  Hope you were able to find a special book for that special someone!
Stay tuned for Book Gifting Part 2 for your Middle Grade Readers – coming out soon!
Happy Reading and Holiday Gifting, everyone!