It's Monday and I'm happy to be participating in a weekly event with a community of bloggers who post reviews of books that they have read the previous week. Check out more IMWAYR posts here: Jen from Teach Mentor Texts and Kellee and Ricki from Unleashing Readers
"A children's story that can be enjoyed only by children is not a good children's story in the slightest." —C.S. Lewis
Are picture books are not just for Primary students?  No, no, no!  In fact, there are MANY picture books far too sophisticated and complex for younger students.  Over the years, I have been astounded and moved by the rich conversations and deep thinking that emerges from sharing these books with older students.  They also include many powerful themes with topics that link to content areas.   I love using picture books to model different comprehension strategies and the fact that they are shorter in length means that I can read them for single lessons.
Soooo… today I am happy to celebrate my favorite picture books for your older readers…
Voices in the Park – Anthony Browne
Anthony Browne is a brilliant author/illustrator and this is one of my favorites of his.  I love the way he combines sparse text and detailed illustrations to tell his story, while always leaving spaces for our thinking.  I often use his books to practice inferring.  Voices in the Park follows four different narrative voices  (depicted by Browne's signature gorilla characters) as they visit the same park one day.  What makes this book special is that, although at first glance it appears a simple story, it explores many adult themes including poverty, class and diversity.  Anthony uses different "voices", font, language, body language, color and backgrounds to represent the different characters.  This is a book with many layers – and a perfect invitation for close and careful reading. 
Flotsam – David Wiesner
David Wiesner's known for his highly inventive, creative wordless picture books.  This book earned him the Caldecott in 2007.   In in this story, a young boy, while searching for  flotsams (any floating object washed up on shore) on the beach, discovers an old-fashioned underwater camera.  The roll of film inside reveals some remarkable and magical surprises!  Breath-taking illustrations that can be poured over again and again.  A perfect book for practicing inferring with older students.  Delightful!
Sparrow Girl – Sara Pennypacker
This book is based on a true event that happened in China in 1953 during the rule of dictator Mao Tse-Tung when he "declared war" on the sparrows.  Over a 3 day period, he ordered every person in china (women, children, the elderly) to take to the streets and make as much noise as possible to scare away the sparrows.  The result was horrific, as the sparrows were so frightened by the noise that they had heart attacks and fell down dead from the sky.   This event led to a famine that killed between 20-30 million Chinese over the next 5 years.  This is the story of a young girl who saves 7 sparrows and hides them in her barn.  This book would be a wonderful anchor to introduce students to different forms of government.
Mr. Peabody's Apples – Madonna
Madonna's re-telling of an ancient proverb is one I often use to practice how sometimes a book can "transform" or change our thinking in some way.  The story centers around Mr. Peabody, a popular teacher and baseball coach in the small town of Happville.  When one of the children on his team witnesses what he believes is Mr. Peabody stealing an apple from a local deli, he begins to spread the rumours that his coach is a thief.  This book has stimulated a great many thoughtful classroom conversations about the consequences of spreading false rumours.   Lauren Long's illustrations are amazing – especially the last page… "What can you infer from those few leftover floating feathers?"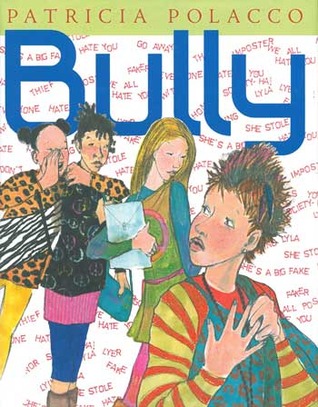 Bully – Patricia Polacco
The amazing Patricia Polacco targets middle school students in this excellent book.  While there are many books about school bullying, this is the first I've read that focuses specifically on cyber and facebook bullying.  This is an important book to share and discuss with your middle school students – and a great book for practicing making connections. 
The Stamp Collector – Jennifer Lanthier
Wow – this thoughtful book is truly beautiful – to read and to look at. A book that celebrates the power of stories and how they bind us together and set us free.  This is the story of a two friends – one grows up to be a prison guard, the other a writer imprisoned for something he writes.  Great to explore issues of government oppression and freedom of speech with older children. This book is haunting – it will stay with you long after the book is finished. 
Fox – Margaret Wild
This book is dark, disturbing and haunting –  definitely NOT for younger students.  A magpie with a burnt wing, a one-eyed dog and a jealous fox.  Even after the book is finished, it will stay with you for a long time.  I have had amazing journal responses from students after reading this book – so many unanswered questions.  The word choices, the art, the story – by far one of the BEST picture books in my intermediate collection!
The Arrival – Shaun Tan
The Arrival is a stunning wordless graphic picture book.   Shaun Tan captures the experience of an immigrant brilliantly.  The story follows the journey of a man leaving his family and his home country to his arrival in confusing new world.  The reader experiences the fears and challenges of this man as he tries to make his way in a new land, unfamiliar with the language and customs.  It is a surprisingly moving story of hope – perfect for questioning and inferring. 
Underground: Finding the Light to Freedom – Shane Evans
The story of the underground railway, told through the eyes of voices of the slaves.  While there are few words on each page, the reader is left to infer much of the story.  As the slaves begin to "find the light", so too, do the illustrations become brighter.  I love using sharing the words of the poem with students first without telling them the title or showing them the pictures and invite them to infer the possible meaning of "Freedom"
The Promise – Nicola Davies
Nicola Davies is one of my favorite Nonfiction picture book writers so I was excited to see this book when it came out last year.  It is a "pay it forward" type of story  of hope, of renewal, of promise.  In a colorless city where the people have become as ugly as their surroundings, a young girl steals a bag from an old woman and makes a promise to plant what is inside the bag… acorns.   As trees begin to grow, green joy is spread throughout the desolate city and others are inspired to also do some planting of their own. The mixed media artwork  takes the reader from darkness to light as the change in the girl also begins to change the world around her.  I love Nicola Davies simple, direct language and message. 
The Composition – Antonio Skarmeta
Wow – this powerful picture book for older students was originally published in Spanish.  It tells the story of Pedro, who lives in a police state and is forced to choose between his own family and the state.  One day,  a policeman comes into Pedro's class and asks the students to write a composition about what their families do at night. The pressure on children to betray their own parents brings fear and terror to Pedro and his classmates;  many know their parents meet at night in secret and are planning some kind of a revolt.   I love to pause and ask the students – what would you do?  A  final note explains what it's like to live under a dictatorship.
Just a Dream – Chris Van Allsburg
Chris Van Allsburg is a master story teller.   He seems to tell a story by not telling us the story!  In other words, he crafts his stories carefully to allow spaces for our thinking.  His books are my "go to" books for teaching and practicing inferring with intermediate students.  While ANY book by Chris Van Allsburg could be on this list, I chose Just A  Dream because of it's subtle but important message about the environment.
To This Day: For the Bullied and the Beautiful – Shane Koyczan
Spoken word poet, Shane Koyczan provides us with a glimpse into his childhood of bullying and ridicule through this powerful book adaption of his poem.   Raw, heartfelt and inspirational – his words bring hope for all those who have been bullied.  This is a must share with your middle school students.
Thanks for stopping by!  What are your favorite picture books to use with Intermediate and Middle school students?