It's Monday and I'm happy to be participating in a weekly event with a community of bloggers who post reviews of books that they have read the previous week. Check out more IMWAYR posts here: Jen from Teach Mentor Texts and Kellee and Ricki from Unleashing Readers.
I have discovered some wonderful new picture books this week that I'm excited to share!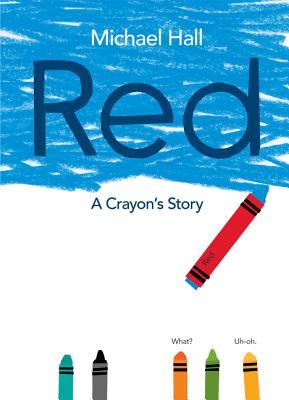 Red: A Crayon's Story – Michael Hall
I love books that have different layers of interpretation and I can see Red as having the potential to stimulate some deep discussions with older children. Red is a crayon who doesn't fit in – he has a bright red label, but never quite feels as if he belongs and is miserable. The reason is – he's actually a blue crayon with a red label. Readers know this, but Red doesn't realize until a new friend offers him some insight on his true color. This story is simple, clever celebration of inner diversity. Simple prose, colorful illustrations – this book is a gem! 
I Don't Want to Be A Frog! – Dave Petty
I absolutely LOVED this book!  It's hilarious and carries a great message about self esteem and self acceptance.  Little Frog does NOT want to be a frog – in fact he would rather be ANY other animal than a slimy, wet, bug eating frog!  Beautiful illustrations, funny and I am already thinking it would be a great writing anchor for "What Animal Would You Rather Be?"   Fantastic book!
Click Clack Peep! – Doreen Cronin
Here's another "Click, Clack" book to add to my collection, and while it doesn't quite live up to the original "Click, Clack, Moo!" – I enjoyed it very much!  The story centers around a little duck who is not going to sleep.  The cows, and all the animals provide amusing suggestions on how to get this little duck to sleep, while Farmer Brown has no clue what is going on.  This book would make a great gift for new parents! 
The Bear Ate Your Sandwich – Julia Sarcone-Roach
This is a VERY clever book with a surprise ending that your students will love but likely not suspect!    You left your sandwich on a park bench while you left to play with your friends and when you come back – it's gone.  What happened to it?  And so begins the detailed recounting of what happened to your sandwich – a bear at it!  Or did it?  Hilarious and fun – this book is a perfect read-aloud and would make an excellent anchor for re-telling an event in sequence with lots of examples of transition words. 
One Big Pair of Underwear – Laura Gehl
Fun, rhyming text and hilarious illustrations – this is an excellent book for teaching counting and the importance of sharing!  Silly and fun – and we all know how much kids love listening to us read the word "underwear"!
Sick Simon – Dan Krall
Simon is sick but he still goes to school… and spreads his germs to everyone!  Hmmm…I was not quite sure about this one because the illustrations were pretty disgusting – graphic illustrations of phlegm and mucus – Blech!  But I believe that was intentional!  This is a must book for the classroom during cold and flu season as it is an effective way to talk about germs and how illness is spread.   
Bone by Bone: Comparing Animal Skeletons – Sara Levine
"Have you ever wondered what we would look like if we didn't have any bones? It wouldn't be pretty." These are the first lines from this interesting, interactive Nonfiction book. A conversational, question-answer format, this book introduces young readers to different skeletons – from humans to animal…s. Great for introducing comparing and a perfect read-aloud in a primary classroom. Engaging, interesting and fun!  Thank you, Carrie Gelson, for introducing me to this book!
Lulu's Mysterious Mission – Judith Viorst
I first learned of this book from our amazing teacher-librarian at my school.  She told me how much her own two girls had loved this beginning chapter series and now it was a very popular book in our library.  I also noticed on Alyson Beecher's blog post Kid Lit Frenzy  that it had recently won a Cybil award (Children's and Young Adult Bloggers Literary Awards) for best early chapter book 2014.  And who doesn't love anything written by Judith Viorst?  So… I knew I had to read it!  This is actually the third installment in the Lulu series – and begins with Lulu's parents going out of town and leaving her with a babysitter – Ms. Sonia Sofia Solinsky!  Lulu is NOT pleased and concocts many different plans to bring her parents home, until Ms. Solinsky reveals a secret!  This book has simple enough text for beginning readers but is chocker-block full of fun!  I loved it and am now going to put my name on the wait list in our library for the other two!
Josh Bell
is my name.
But Filthy McNasty is my claim to fame
Folks call me that
'cause my game's acclaimed,
so downright dirty, it'll put you to shame.
My hair is long, my height's tall.
See, I'm the next Kevin Durant,
LeBron, and Chris Paul.
WOW! Oh Wow! From the second you start reading this book, you will not be able to stop! Basketball loving, dread-locked Josh Bell stole my heart and he will steal yours. This book was recently awarded the Newberry for 2015 and has been getting a lot of buzz. I was reluctant because I don't really like basketball and am not a huge fan of books in verse. But this book is nothing like anything I've ever read: dazzling characters with amazing voices; rollicking, rhyming, bouncing rhythm; extraordinary writing; a powerful ending; themes of sportsmanship, family, siblings, coming of age, diversity, death, courage… This book is brilliant, funny, poignant, entertaining. And in case you haven't inferred – I LOVED this book! YOU MUST READ IT! And if you teach grades 6-9 (I'd go as low as grade 5) YOU MUST READ THIS BOOK TO YOUR CLASS! Okay, I'll stop.
Extended book trailer:  https://www.youtube.com/watch?v=BONWz5Ao82E
Funny clip by the author: https://www.youtube.com/watch?v=iO2-u1258UU
Thanks for stopping by!  What book(s) caught your eye?  I'd love to know!