It's Monday and I'm happy to be participating in a weekly event with a community of bloggers who post reviews of books that they have read the previous week. Check out more IMWAYR posts here: Jen from Teach Mentor Texts and Kellee and Ricki from Unleashing Readers.
Is it really March?  Well, the blossoms are blooming and so are the new books!  In the midst of report card writing, I have been taking breaks to read some amazing new books.  So here are some of the latest releases that have taken my breath away, made me laugh, cry, smile and sigh…
If You Plant A Seed – Kadir Nelson
If you plant a carrot, a carrot will grow; if you plant a seed, a flower will grow. But if you plant kindness – what happens? If you plant selfishness – what happens? …Thank you to Leslie Buffam at Vancouver Kidsbooks for introducing me to this new book by acclaimed author Kadir Nelson.  This book has simple, sparse text, breathtaking illustrations and a gentle message (with a splash of humour) about ways we can all make kindness grow. Excellent introduction to the concepts of "selfish" and "generous" and a perfect spring read-aloud for your primary class.
The Queen's Shadow: A Story of How Animals See – Cybele Young
I'm sort of at a loss for words when it comes to this oh-so-clever book by Canadian writer/illustrator Cybele Young (Ten Birds).  It is part nonfiction, part "who-done-it" mystery, part imaginary and a whole lot of WOW!  During the Queen's Ball, attended by animals, a major crime occurs – the Queen's shadow is stolen!  The Royal Detective, the Mantis Shrimp, begins interrogating all the animals in the hopes of finding the guilty party.  Each creature provides the detective with their version of the scene of the crime based on their own unique eyesight.  Sidebars provide factual information about how the eyesight of each animal works.  As each animal gives their testimony, more clues are revealed.  There is SO much to love about this book – you really have to experience it for yourself to appreciate just how amazing it is!  The exquisite illustrations are detailed and textured.  Sophisticated humour, engaging story and layers upon layers of unique story-telling. This is a smorgasbord for your eyes, an extravaganza for the mind and the most unique book I have seen in a long time. LOVE!
Smick! – Doreen Cronin
Smile.  Author of the Click! Clack! books has created a delightful character Smick – a loveable dog who loves catching sticks and befriends a little chick!  Simple, rhyming text and bright simple illustrations.  Lots of repetition and rhyme and clever word combining (as in "stick" + "chick" = SMICK!)  would make this a great read-aloud and wonderful anchor for teaching rhyming words.

 Sidewalk Flowers – JoArno Lawson
Sigh.  This moving, wordless picture book teaches us to notice the beauty around you and the impact of small acts of kindness.  A young girl walks through the park with her dad.  He is not paying attention because he's on his cell phone; she notices the wildflowers and begins picking them and giving them away.  Stunning black and white illustrations that slowly introduce color as the story unfolds.  This book is tender, gentle, poignant, beautiful, transforming. 

                                                                                   A Boy and a Jaguar – Alan Rabinowitz
This book came out last year and I can't believe it took me so long to read it! WOW – so many things to love about this book. It tells the true story of young Alan, who struggles with a stutter. The only place he finds comfort is at the zoo, where he discovers that his stutter disappears when he talks to the animals.  "Animals can't get words out, just as I can't get he words out. So people ignore or misunderstand or hurt them, the same way people ignore or misunderstand or hurt me. I make a promise to my pets. I promise that if I can ever find my voice, I will be their voice and keep them from harm."    Alan keeps his promise and grows up to become one of the world's premier protectors of wild jaguars. Powerful, inspiring, gorgeous illustrations – this book is a gem!
                                                                                         Blue on Blue – Dianne White
Beautiful folk art illustrations and simple, lyrical rhyming text – this is a perfect book for sharing out loud. The story takes you through a family's experience on a farm during an unexpected rainstorm. I would definitely use this book for visualizing and sequencing a sudden storm. Beautiful detailed illustrations by Caldecott winner Beth Crommes (The House in the Night, Swirl by Swirl) would also inspire great storm art!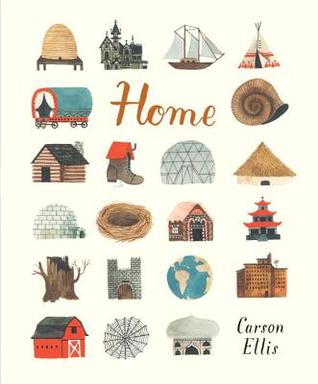 Home – Carson Ellis
What is home? Is it a place? A space? A sanctuary? A sense of belonging? In this debut picture book, author/illustrator Carson Ellis gives readers a "transforming" perception of "home". I loved the folk-art illustrations and the way she presents both real and non-traditional homes such as sea homes and hollow…-tree homes. Simple, engaging text and a wonderful book to inspire students to create their own imaginary "homes". Whimsical, imaginative and a loving look at the many places we call home. Love this book!

                                                                                        All Four Stars – Tara Dairman
Attention foodies and fans of cooking shows! In this charming novel we meet 11 yr. old Gladys Gatsby who lives with a fast food, mircro-waving family. She, on the other hand, loves to cook! But when a Crème Brule disaster (small kitchen fire!) causes her to be banned from the kitchen, she ends up entering …a writing contest at school. She writes about food, of course, and ends up being offered a job as a food critic! (They don't know she is a kid!) This would make a fun read-aloud. I loved Gladys – she is an adorable character that you will be cheering for. Warning – don't read this book when you are hungry! The food descriptions are mouth-watering!

Thanks for stopping by!  Which book caught your eye?  Write me a message to let me know!