It's Monday and I'm happy to be participating in a weekly event with a community of bloggers who post reviews of books that they have read the previous week. Check out more IMWAYR posts here: Jen from Teach Mentor Texts and Kellee and Ricki from Unleashing Readers
Well my intention of blogging more this summer has certainly not unfolded as planned!  But I have discovered I have only two speeds – Fast Forward and STOP!  And when I stop – I literally get nothing done!  But I'm enjoying the lazy (hot) days of summer immensely!  Here is my "Part 2" of some my favorite summer picture books.  This week I'm featuring books that focus on Family, Friendship and Inclusion – all themes and lessons you will find in my new book Powerful Understanding.  Enjoy and happy reading!
Drawn Together – Minh Le
Beautifully touching story celebrating the power of unspoken language and bridging the gap between ages, languages, and cultures.  A young boy and his aging grandfather can't communicate due to a language barrier but eventually find a new way to communicate through drawing together.   Lots of connections here.  Stunning story… stunning illustrations.  I see award nominations coming for this one.
Islandborn – Junot Diaz
"Just because you don't remember a place doesn't mean it's not in you."  A perfect book for exploring immigration, community, family, traditions and culture.  WOW!  Great book for sharing and making connections to family origins.  Bright, bursting illustrations.  LOVE!
Alma and How She Got Her Name – Juana Martinez-Neal
Who named you?  What does your name mean?  What connection does your name have to your family?  These are questions I love to ask my students as we explore identity  (and the first lesson in my Powerful Understanding book!) Alma has six names – each one connected to people in her family.   A perfect anchor for a lesson on exploring our names!
I love books that invite questions from the cover… "What's a funeral?" …"Who died?"…  "Why do the kids look so happy when the book is called The Funeral?"  "Why are the letters in the title in different colors?"   A refreshing look at a "FUN-eral" of a beloved uncle – celebrating life rather than mourning death.  It's simple, honest and affirming.   This one grew on me.
FRIENDSHIP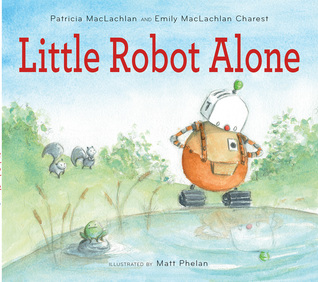 Little Robot Alone – Patricia Maclachlan
Can't ever miss reading a book by the great Patrica Maclachlan…  Little Robot Alone is a lovely story about a Robot who decides to use his creativity to make himself a friend – a robot dog!  Repetitive segments and sing-song elements make this a charming read-a-loud for Pre-K-Gr. 1.  Would be a great anchor for inviting students to create their own "friend".   (Would also be a great anchor for my MMT school project – based on The Most Magnificent Thing by Ashley Spires.  See my blog post here.)
Hoot and Olive:  Brave Enough for Two – Jonathan D. Voss
Mix a little Goodnight Moon, Winnie-the-Pooh, and The Night Gardner…. and you have this delightful story of two inseparable friends – a little girl and her stuffed Owl. Gorgeous, whimsical watercolor illustrations.  A tale of bravery, adventure and hope.  Love this one.  (I know I say that a lot but I really did love this one!)
Rescue and Jessica – A Life-Changing Friendship – Jessica Kensky
Written by two of the survivors of the Boston Marathon bombing, this picture book is the true story of one of them and their service dog, Rescue.  But it is really the story about overcoming life's challenges and the hope we find during times of overwhelming adversity.  I love the parallel stories of both Rescue, a dog that thought he would grow up to be a seeing eye dog, but life had a different responsibility for him and Jessica, a young girl whose life also turned out differently than she imagined. Together they rescue each other.
We Don't Eat our Classmates – Ryan T. Higgins
Oh my goodness – SUCH a funny book!   Yes, there will be many "back to school" books being released this month… but this is definitely the one I recommend.  So fresh and funny, but teaches empathy so beautifully.  A perfect read-aloud or gift for that young one who might be experiencing "back to school jitters"
Melt my heart.  I love this book.  SO simple yet such an important message:  there is more than one way to do something. Or be something.   Leonard is not your typical lion. Leonard is not fierce but enjoys the great outdoors and loves words.  He befriends Marianne, a poetic duck and, together, they compose poems.  When other lions hear about unconventional Leonard – they confront the pair.  A unique and beautiful story about celebrating individuality and diversity; for standing up for your gentle self and befriending who you want.  This is a great book for building classroom community.
                                               Niblet & Ralph –  Zachariah OHora
Two look-alike pet cats switch places in this humorous, sweet story of mistaken identity.  A little like "The Parent Trap" for cats!  Love the retro illustrations.  I like how, while the cats look alike, their owners slowly discover their differences.  Very sweet story.
Friendship is Like a Seesaw – Shona Innes
Great rhyming read-aloud for your younger students.  Sweet illustrations and gentle text explores friends at their best–sharing, laughing, and playing together–as well as friends who sometimes say hurtful things, leave others out, or get a bit bossy.  I love how the story introduces specific "friendship fix" strategies (another lesson in my Powerful Understanding book!) like talking about our feelings, looking at our own friendship skills, or taking a break.  A great anchor book for talking about the ups and downs of friendships!  
INCLUSION 
All Are Welcome – Alexandra Penfold
Oh my.   This book.  It's a must read for every teacher to share in the first days or week of school.  A wonderful, welcoming picture book that celebrates diversity, inclusiveness, acceptance, and celebration of all cultures in a school community.   I hope this book ends up in EVERY library in EVERY school EVERYWHERE!
The Outlaw – Nancy Vo
Wow.  This book is powerful, so powerful.  Set in the old west, it tells the story of an Outlaw who, after many years of terrorizing a town, disappears.  When he returns, years later, he must begin the long process of making amends.   While not really about inclusion, it is a story about forgiveness, acceptance and second chances.  Simple text but this is definitely going to be added to my list of Inferring books for intermediate students. Would make a great book to spark conversations about forgiveness.   Love the "old west" feel to the mixed-media illustrations.
We are All Dots:  A Big Plan for a Better World –  Giancarlo Macrì
If you attended any of my workshops this past spring, you will have heard me going on and on about this amazing, powerful picture book that introduces, in simple format, many important social issues.  Intended for an older audience, this book would stimulate great discussions about equality and diversity with older students.   SO many inferences can be made from the many different dot images.  This is one of my favorite books of 2018.
Thanks for stopping by!  Hope you found a book or two that caught your eye!