It's Monday and I'm happy to be participating in a weekly event with a community of bloggers who post reviews of books that they have read the previous week. Check out more IMWAYR posts here: Jen from Teach Mentor Texts and Kellee and Ricki from Unleashing Readers.
It's been a busy few weeks and I have not had a chance to do a post in a while!  I have, however, been discovering a lot of wonderful new picture books that I am excited to share this week!
Swimming, Swimming – Gary Clement
"Swimming, swimming, in a swimming pool.  When days are hot, when days are cold, in a swimming pool".  I love this almost wordless picture book by National Post's political cartoonist Gary Clement as he shares his childhood memories of summer days swimming in the neighborhood pool with his friends. Delightful illustrations and a perfect book for making connections and inferring.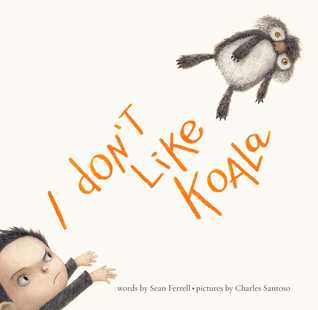 I Don't Like Koala – Sean Ferrell
What do you do when your stuffed animal creeps you out and won't stop staring at you?  Adam does not like his cute, cuddly Koala.  No matter how many times he tries to get rid of it, Koala just keeps showing up!  A little scary, a little funny – and a great book about facing your fears.  Illustrations are hilarious – a little Tim Burton-ish!
Look! – Jeff Mack
This clever book uses only two words but tells a great story – the perfect combination for practicing inferring!   A gorilla tries desperately to get the attention of a little boy,  who is transfixed by his TV, because he wants the boy to read to him.  Whoops!  Clumsy gorilla has broken the TV!  Now what will the little boy do?  Great messages in this one! 
You Nest Here With Me – Jane Yolen
This book has soothing and rhythmic rhymes and the repeating phrase "You nest here with me". A sweet introduction to different birds and different nests to young children. Gorgeous mixed media collage style of Melissa Sweet (The Right Word) add to the loveliness.  There are so many recent books about birds and nests that I think I shall do a special post just about birds soon!
The Skunk – Mac Barnett
A skunk starts following a man around the city, resulting in a bizarre chase!  This book is a little weird, a little random but great fun to read.  The best part is that you have no idea what is going on until the end of the story!  Great for predicting and inferring!  Love Patrick McDonnell's illustrations!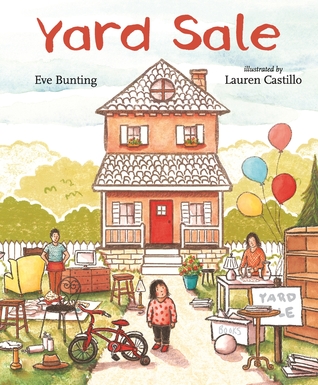 Yard Sale – Eve Bunting
I loved this book before I even read it. Eve Bunting and Lauren Castillo?  Together?  In one book?  Then I read it and I loved it around the block and back again.  I think this just might be my favorite book of the year so far.  Beautiful, tender, heart-breaking, up-lifting story about a family who is down-sizing to a smaller apartment, due to economic circumstances.   The little girl is sad to see so many of their possessions for sale, but learns that what matters most is having each other.  This is a definite Kleenex book.  Love.
Red – Jan De Kinder
An innocent playground incident grows into a full-blown bullying incident.  This book focuses on the pain of the victim and the victim's friend who does nothing to help.  In the end, we see and feel the courage of a girl who makes a difficult choice and stands up to put a stop to it.  Beautiful black, white and red illustrations.  This book would be a good one for classroom discussion.
Otto the Owl Who Loved Poetry – Vern Kousky
If you are looking for a book to launch your poetry unit – here it is!  This adorable book that introduces poetry to younger students includes great lines from Dickinson, Eliot, Keats, and Rossetti.  I especially like the message it portrays that sharing poetry can be a joyful experience.  "Otto now knows that poetry should be shared with more than just the moon and the stars. Poetry should be shared with everyone."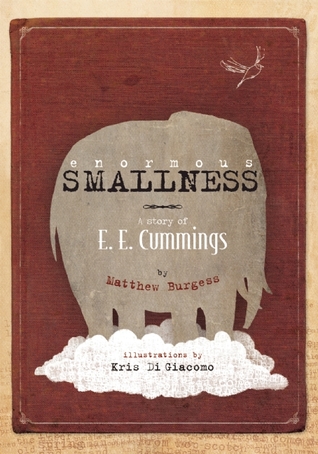 Enormous Smallness – A Story of E. E. Cummings – Matthew Burgess
Sigh.  Sigh again.  I love this book so much.  I know I say that a lot but ever since I memorized "Maggie and Millie and Mollie and May" in grade 6, I have loved e.e. cummings' poetry.  This is a gorgeous, illustrated biography of E. E. Cummings. (I loved the different type-set shown  as well!)  Interesting, engaging story of his life, woven together with some of his most wonderful poems. A quiet, sensitive introduction to his life and his poetry.  This book is simple, yet very engaging and I felt his spirit when I read it. 
So those are the treasures I discovered this week!  Would love to hear which ones caught your eye!  Thanks for stopping by!