It's Monday and I'm happy to be participating in a weekly event with a community of bloggers who post reviews of books that they have read the previous week. Check out more IMWAYR posts here: Jen from Teach Mentor Texts and Kellee and Ricki from Unleashing Readers
Yes, I know…it's actually Tuesday!  But it's summer and it feels like Monday!  Ahhh…. summer!  A time to rest, rejuvenate, re-connect, and reflect!  And while some may be binge-watching a few Netflicks series, I will have my head buried in a pile of new picture books!   There are so many I want to share so I have tried to "group" them into themes.  This week, I am featuring picture books that would work very well with lessons from my new book Powerful Understanding – understanding identity and emotions.  These would also be excellent anchor books for making connections.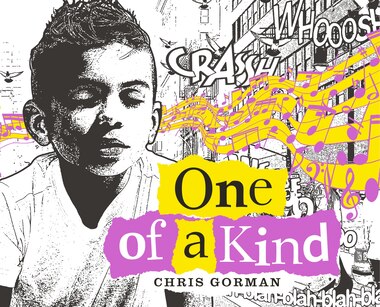 One of a Kind – Chris Gorman
Celebrating all that makes you unique, of being oneself and how finding "your people" – a tribe of your own kind – can lead to something special.  Upbeat, rhythmic text and gorgeous illustrations.  I liked the stark black and white line drawing illustrations with bright yellow and pink highlighting the words.  I would use this book to spark a conversation about "unique" qualities:  What are the traits that make you unique? What unique trait are you most proud of?   What are the common traits do you and your friends share?
Alma and How She Got Her Name – Juana Martinez-Neal
Exploring identity is one of the focuses in my new book.  In one of the lessons, I encourage students to discover the story of their name – Who named you?  What does your name mean?  What connection does your name have to your family or culture?  So of course I was VERY excited to read this delightful anchor book about a little girl learning the meaning behind her six names:  Alma Sofia Esperanza José Pura Candela.
The Day You Begin – Jacqueline Woodson
"There will be times when you walk into a room and no one there is quite like you."  And so begins this poignant, powerful story by the amazing Jacqueline Woodson (Each Kindness, The Other Side, Brown Girl Dreaming).  If there is only ONE book you read this summer – this is it.  This is a must-own book for teachers,  librarians, and parents, and a must-share for all kids, no matter their ages.  I am absolutely in love with this story of pride in self, fear of not fitting in, and ultimately belonging.   A PERFECT book for sharing at the beginning of the school year to help build a welcoming community in your classroom and a perfect reminder that we are more alike than different.  My favorite book of 2018 so far!
Moon – Alison Oliver
A young girl who is overwhelmed by her daily "To Do" checklist learns how to embrace her inner wild child after meeting a wolfy friend one night.  A great message for us all to take a step back from the hustle and bustle of our lives,  get out, and enjoy play time in nature.  The illustrations are beautiful, with lovely hues of "night" colors and great expressions.
Crunch the Shy Dinosaur – Greg Pizzoli
Very cute, unique interactive picture book that encourages readers to coax a very shy brontosaurus out from its hiding place.  I could see this as a great read-aloud in a Pre K or K class as the story invites readers to greet and speak softly to Crunch as well as introduce themselves to him.  Also a great book for providing calmness.
I'm Sad – Michael Ian Black
A simple, honest story about feeling sad. Every child needs to know that emotions don't last and that it's okay to let ourselves be sad sometimes without feeling the need to constantly put on a happy face for everyone.  Michael Ian Black and Debbi Ohi do an excellent job portraying that in this book.  I loved their first book I'm Bored and, while this one may not be as humorous, I think I liked it even more.
I Hate Everyone! – Naomi Davis
Another great read-aloud for primary students.  A heartwarming story of a young girl who is overwhelmed with confusing emotions on her birthday.   Great for making connections and inferring that "I hate you" often really means "I need you."   A wonderful "connect" book with such an accurate depiction of different emotions.  Great artwork.
Small Things – Mel Tregonning
Exceptionally-powerful, heart-breaking wordless picture book/graphic novel depicting childhood anxiety and worries.  Reading this book is an emotional experience, and one that would spark a lot of discussions, connections and inferences.  Beautiful, haunting and the back story to this book will break your heart.
The Rabbit Listened – Cori Doerrfeld
Get your Kleenex ready.  With spare, poignant text and adorable illustrations, The Rabbit Listened is a tender and deeply moving exploration of grief and empathy for very young children.  Simple message that sometimes what we need most is  a quiet, thoughtful listener. SO much to love about this book.  I especially liked that Taylor's gender is never mentioned or indicated by the illustrations.
Grumpy Monkey – Suzanne Lang
Everyone has their grumpy days, and you know what? A grumpy day now and then is absolutely okay.  Picture books are deceiving. They hide big stories within their little bindings.  This is a story we all need to hear: it's okay to feel your feelings, own them, lean into them as long as you don't hurt others in the process.  Great read-aloud for a primary classroom – funny, silly and important all mixed together.
Whale in a Fishbowl – Troy Howell, Richard Jones
While on the surface, this is a gentle story of Wednesday – a whale who lives in a giant fishbowl in the middle of the city but yearns for a life beyond her bowl.  But metaphorically, it is a universal story of belonging, about possibilities, and finding one's perfect place.  Stunning illustrations.   This could be read to a primary class to discuss animals in captivity, or with older students to practice inferring.
Ocean Meets Sky – The Fan Brothers
I am a huge fan of this bother author-illustrator team.  I loved The Night Gardner and this new release is equally as whimsical and stunning.  While an imaginative journey of sorts, I included it here because of the emotional, dream-like journey that young Finn embarks on as a way of remembering his grandfather, who has recently passed away.  I love stories with multiple layers – kids will most likely see it as a story about adventure, and adults will recognize it as a story about loss, grief, and remembering.  Stunning.
Thanks for stopping by!  Hoping a title (or more) has caught your eye!  Next week, I will be focusing on new picture book about friendship and inclusion!
Have a great reading week, everyone!